Register now!
12th European Bioplastics
Conference

Attendees
CONFERENCE ATTENDEES: WHO WILL BE AT THE CONFERENCE?
Each year, over 300 experts from around the globe come together and impressively demonstrate the conference's tremendous effectiveness in information exchange and networking. The conference is the ideal platform to build new business relationship and to reach industry decision makers along the entire value chain of bioplastics.
As the major industry association in this field, the hosts at European Bioplastics are committed to representing the interests of stakeholders along the entire value chain. The diversity of the delegation reflects that, and the trend towards a pan-industry gathering is set to continue as the event embraces the inclusion of political and other non-private sector actors. It is also noteworthy that an increasing number of exciting brands are participating.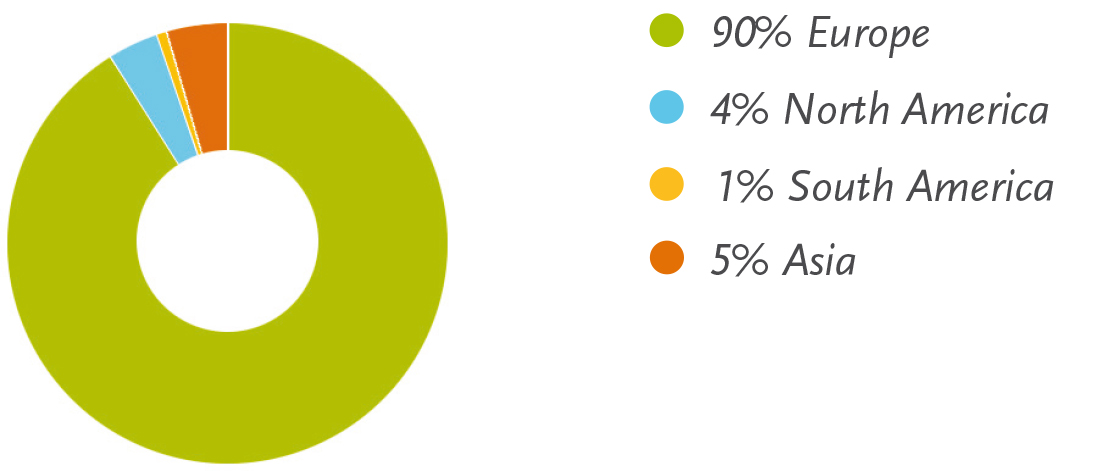 _
_
_
_
_
_
REGISTRATION FOR THE 12TH EUROPEAN BIOPLASTICS CONFERENCE WILL OPEN IN APRIL 2017.
The list of participating companies will be published in summer 2017. The participating companies at the 11th European Bioplastics Conference in 2016 were:
Access Business Group International, Adolphe Merkle Institute, AGRANA Stärke GmbH, AIB-Vinçotte International SA, AIMPLAS, AkzoNobel, Alcantara S.p.A., Alpro C.V.A, Annikki GmbH, AO Packaging Engineering/ Henkel, API APPLICAZIONI PLASTICHE INDUSTRIALI SPA, Applied Polymer Innovations, Aptar, Arctic Biomaterials Oy, Arizona Chemical, ASK Chemicals, BAKOMA SP. Z O.O., Basell Poliolefine Italia S.r.l, BASF SE, BASF Belgium, Bayern Innovativ GmbH, Belgian BioPackaging Association, BIO-FED, Branch of AKRO-PLASTIC GmbH, Bio-Sep Ltd, Biobased Products, BIOCOM Media / European Biotech Newsletter, Bioplastics magazine, BioplasticsNews.com, BIOTEC GmbH & Co. KG, Biotworzywa magazine, BMW Group, BO Sens, Braskem, Bundestagsfraktion Bündnis 90/Die Grünen, C.A.R.M.E.N. e.V., CARBIOLICE, Charité, Clariant Produkte GmbH, Club Bio-plastiques, Cofresco Frischhalteprodukte GmbH & Co. KG, CompraXX GmbH, Corbion Purac, Dalshus, Dart Container Corporation, DAVINES SPA, Depa Disposables, DESPRIET GEBROEDERS Looplife Polymers, DIN CERTCO Gesellschaft für Konformitätsbewertung mbH, dm-drogerie markt GmbH + Co. KG, DuPont de Nemours Intl Sàrl, DuPont Industrial BioScience, DuPont Tate & Lyle Bio Products, ECHO, École Nationale Supérieure de Chimie de Mulhouse, Ecorep e.U., Ellen MacArthur Foundation, ERCROS SA, Euractiv, Europa Bio The European Association for Bioindustries, European Bioplastics e.V., European Commission DG Environment, European Commission DG Research & Innovation, European Compost Network, EUWID Europäischer Wirtschaftsdienst GmbH, Evonik Industries, Fachagentur Nachwachsende Rohstoffe e.V., Far Eastern New Century Corp., Far Eastern New Century Corporation, Ferrero S.p.A., FKuR Kunststoff GmbH, Fleming Industrier AS, FLO SPA, FOCUS Magazin Verlag GmbH, Food Packaging Forum Foundation, Fraunhofer IBP, Fraunhofer UMSICHT, Fraunhofer-Institute for Chemical Technology ICT, Futamura Chemical UK, Gascogne Flexible Germany GmbH, Global Green Chemicals Public Company Limited, Green Sports Alliance, Grupa Azoty Zakłady Azotowe "Puławy" S.A., Guala Closures Spa, Haifa-Group, Helian Polymers, Hochland Deutschland GmbH, Hochschule Hannover, Holland Bioplastics / Green Serendipity, Huhtamaki Oyj, ID Champagne-Ardenne, IfBB – Institute for Bioplastics and Biocomposites, IHS Chemical Week, IMCD, INCAUCA SAS, InfraServ Knapsack GmbH & Co KG, Institut fü Kunststofftechnik, Institut für Energie- und Umweltforschung Heidelberg GmbH (IFEU), Institut für Industrielle Ökologie, Iowa Economic Development Authority, ITENE Research Center, Japan Pulp & Paper GmbH, Kaneka Belgium, Kimberly-Clark Corporation, KNOTEN WEIMAR, KWS SAAT SE, Labiotech.eu, lariplast, Lawter, Lenzing AG, Maicerías Españolas, S.A. (DACSA), MCPP-Germany GmbH, Melanie Williams Consulting, Mérieux NutriSciences Corporation, Michigan State University, Miko Pac NV, Mitsubishi International GmbH, Mitsui & Co., Ltd., NABU – Naturschutzbund Deutschland e.V., narocon Innovationsberatung Dr. Käb, Natur-Tec, NatureWorks BV, NatureWorks LLC, NEN, Neste Corporation, Nippon Gohsei, nord emballage / packnyheter.se, Norner AS, Norut AS, Novamont, Novamont, Novamont France, Novamont SPA, NUREL, S.A., orfix International GmbH, OWS nv, Pack4Food, pacoon AG, Papstar GmbH, PepsiCo, PepsiCo Europe, Perstorp AB, Perstorp UK Ltd., Photanol BV, Plastic Additives Business, PLASTICOS COMPUESTOS SA, PlasticsEurope Deutschland e. V., PlasticsToday.com, PLASTOTECNICA SPA, Platon Solutions, POLYONE, Port of Ghent, Pöyry Management Consulting Oy, Proplast / Polimerica, PTT MCC, Purac Biochem bv, Quantis Deutschland, RB Biobased Institute B.V., Renault, Renolit, Renolit Nederland B.V., Reverdia VOF, Robert Bosch GmbH, SCA Hygiene Products AB, SEKAB Sweden, Sofinnova Partners, Sojitz Europe plc, Solegear, Bioplastic Technologies Inc., SPAR Österreichische Warenhandels AG, Sphere, Succinity GmbH, Südzucker AG, Sukano AG, Sulzer Chemtech Ltd, Synbra Technology, Taghleef Industries SpA, Tarimsal Kimya, Tech IT, Packaging ITALPOLIMERI, Technip Zimmer GmbH, Tetra Pak International, Tetra Pak Packaging Solutions, thinkstep AG, TIPA CORP, Total Petrochemicals & Refining sa, U.S.Pacific Procurement Company Ltd, Ukrplastic, United States Department of Agriculture (USDA), University Of A Coruña University of Natural Resources and Applied Life Sciences, Van der Windt Verpakking, Verbund Kompostierbare Produkte e.V., Verpackungsrundschau, VICTOR GROUP, Wacker Chemie AG, Wentus Kunststoff GmbH, WeylChem International GmbH, World Wide Fund For Nature Deutschland (WWF), Zero Waste Europe, Zhejiang Hisun Biomaterials Co.,Ltd.