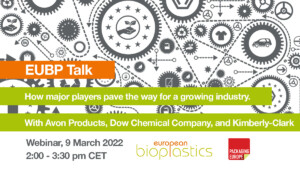 European Bioplastics (EUBP) successfully kicked-off the new event series "EUBP Talk", which aims to provide greater insights into the latest developments in the bioplastics industry and into relevant EU policy initiatives by bringing together policy makers, R&D experts, and industry leaders to talk about how bioplastics can contribute to tackling some of the major challenges of our times.   
The first event entitled "How major players pave the way for a growing industry" took place virtually on 9 March 2022 and was moderated by Tim Sykes from our cooperation partner Packaging Europe. It brought together bioplastics producers as well as other actors involved in establishing harmonized and integrated recycling infrastructures for the future. The presentations and a following panel discussion were preceded by a comprehensive overview on the latest market data of the bioplastics industry. EUBP's Managing Director Hasso von Pogrell shared insights on the data including the main drivers of growth. The three company representatives Josie Adams from Avon Products Inc., Carolina Gregorio from Dow Chemical Company, and Robert Mack from Kimberly-Clark Europe translated the data into practice by talking about their companies' sustainability efforts to achieve a circular economy.  
In his presentation, Mr. von Pogrell gave an overview on the development of the bioplastics industry within the next five years. The global production capacity for bioplastics is set to increase significantly from around 2.4 million tonnes in 2021 to 7.5 million tonnes in 2026. Biodegradable PBAT (polybutylene adipate terephthalate), the production of which will almost quadruple, but also PBS (polybutylene succinate) and bio-based PAs (polyamides) are the main drivers of this impressive growth. Packaging remains the largest field of application for bioplastics with almost 48 percent (1.2 million tonnes) of the total bioplastics market in 2021. However, the data presented by Pogrell also confirms that bioplastics materials are already being used in many other sectors, and the portfolio of application continues to diversify. He also explained that the shift of bioplastic production from Europe towards Asia continues with around 24 percent of production located in Europe and almost 50 percent located in Asia. "Obviously, the EU policies need to produce some incentives to produce more in Europe", emphasized the Managing Director of EUPB. 
Josie Adams shared very interesting insights on Avon's perspectives on the potential for bioplastics for sustainable cosmetics, fragrances, and toiletries in the packaging sector. The company assessed that, even with a 100 percent circular packaging, only a 25 percent reduction of the carbon footprint could be achieved. Thus, bioplastics could play an important role in the company's sustainability goals, including becoming a net zero company by 2030. Avon is particularly interested in PHAs (polyhydroxyalkanoates) that are developed from waste materials especially from waste methane. The company expects price and performance parity to conventional polypropylene (PP) in a reasonable period. However, this would depend on the achievement of a PHA production at scale.  
Carolina Gregorio explained that also for Dow Chemical's global operations bio-based feedstocks are becoming a reality as bio-based plastics help to move plastics closer towards circularity. In this context, she also gave an overview on the European Union's strategy to fight climate change and plastic waste where she sees a clear role for bioplastics. In the course of her presentation, it became clear that also major companies, such as Dow, have recognized the benefits of bioplastics which come an increasingly important pilar in their business operations.  
Robert Mack's presentation perfectly complemented the previous inputs as he took a closer look from a policy perspective. Kimberly-Clark pays a lot of attention to the end-of-life of their products. By 2030, 75 percent of the material used for their single-use hygiene products has to be either biodegradable or recovered and recycled. Already by 2025, 100 percent of the company's packaging has to be reusable, recyclable or compostable. They are convinced that biodegradable polymers facilitate a solution with the lowest lifecycle impacts that deliver a circular option. But in order to be able to make sufficient use of this solution, supporting policies from EU institutions are needed. There needs to be a broad recognition of biodegradable materials as they prevent and reduce waste, especially in consumer goods.  
In the subsequent panel discussion, the speakers agreed on the importance of a clear framework for bioplastics. At the moment, policy dialogue would move too fast with too many policy processes in parallel which could shut down paths of innovation. It would be important to create more incentives for bioplastics in Europe, not only for R&D activities but also for production. Another important point that was picked up from the presentations was the question of scale. In this regard, it would be important that the recycling industry would open new recycling streams and wouldn't reject new polymers as contaminants which they aren't. The discussion was concluded by the claim to give bioplastics a chance to grow. 
The second edition of the EUBP Talk is planned to take place in the second quarter or 2022. More information will follow soon.