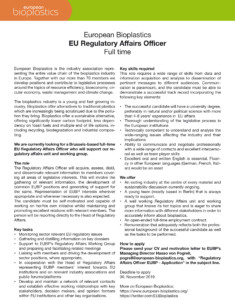 We are currently looking for a Brussels-based full-time EU Regulatory Affairs Officer who will support our regulatory affairs unit and working group.
The Regulatory Affairs Officer will acquire, assess, distil, and disseminate relevant information to members cover-ing all areas of legislative interests. This will involve the gathering of relevant information, the development of common EUBP positions and generating of support for the same. Representation of EUBP interests wherever appropriate and whenever necessary is also expected.The candidate must be self-motivated and capable of working on her/his own initiative whilst maintaining and promoting excellent relations with relevant members. The person will be reporting directly to the Head of Regulatory Affairs.
Deadline to apply: 3 January 2020.
To read complete job vacancy click here