Currently, bioplastics still represent less than one percent of the more than 390 million tonnes of plastic produced annually*. After stagnating in 2020, mainly due to Covid-19, the overall global plastic production has been increasing again since 2021.  This development is driven by rising demand combined with the emergence of more sophisticated applications and products. 
According to the latest market data compiled by European Bioplastics in cooperation with the nova-Institute, global bioplastics production capacities are set to increase from around 2.2 million tonnes in 2022 to approximately 6.3 million tonnes in 2027. 
Bioplastic alternatives exist for almost every conventional plastic material and corresponding application. Due to a strong development of polymers, such as PHA (polyhydroxyalkanoates), polylactic acid (PLA), PAs (polyamides) as well as a steady growth of Polypropylene (PP), the production capacities will continue to increase significantly and diversify within the next 5 years.
Currently, biodegradable plastics altogether, including PLA, PHA, starch blends and others, account for more than 51 percent (over 1.1 million tonnes) of the global bioplastics production capacities. The production of biodegradable plastics is expected to increase to over 3.5 million in 2027 due to a strong development of polymers, such as polylactic acids (PLAs) and PHA (polyhydroxyalkanoates).
Biobased, non-biodegradable plastics altogether make up for more than 48 percent (almost 1.1 million tonnes) of the global bioplastics production capacities. These also include drop-in solutions like biobased PE (polyethylene) and biobased PET (polyethylene terephthalate), as well as biobased PA (polyamides). Their relative share is predicted to further decrease to about 44 percent in 2027. However, in absolute numbers the production capacities for biobased polymers are still going to increase over the next five years to more than 2.7 million tonnes. While production capacities for biobased PET stagnate, the main drivers for the growth are Polypropylene (PP), polyamide (PA), and polyethylene (PE).
Bioplastics are used in an increasing number of markets, from packaging, catering products, consumer electronics, automotive, agriculture/horticulture, and toys to textiles and several other segments. Packaging remains the largest market segment for bioplastics with 48 percent (almost 1.1 million tonnes) of the total bioplastics market in 2022. However, the portfolio of applications continues to diversify. Segments, such as automotives & transport or building & construction, remain on the rise with growing capacities of functional polymers.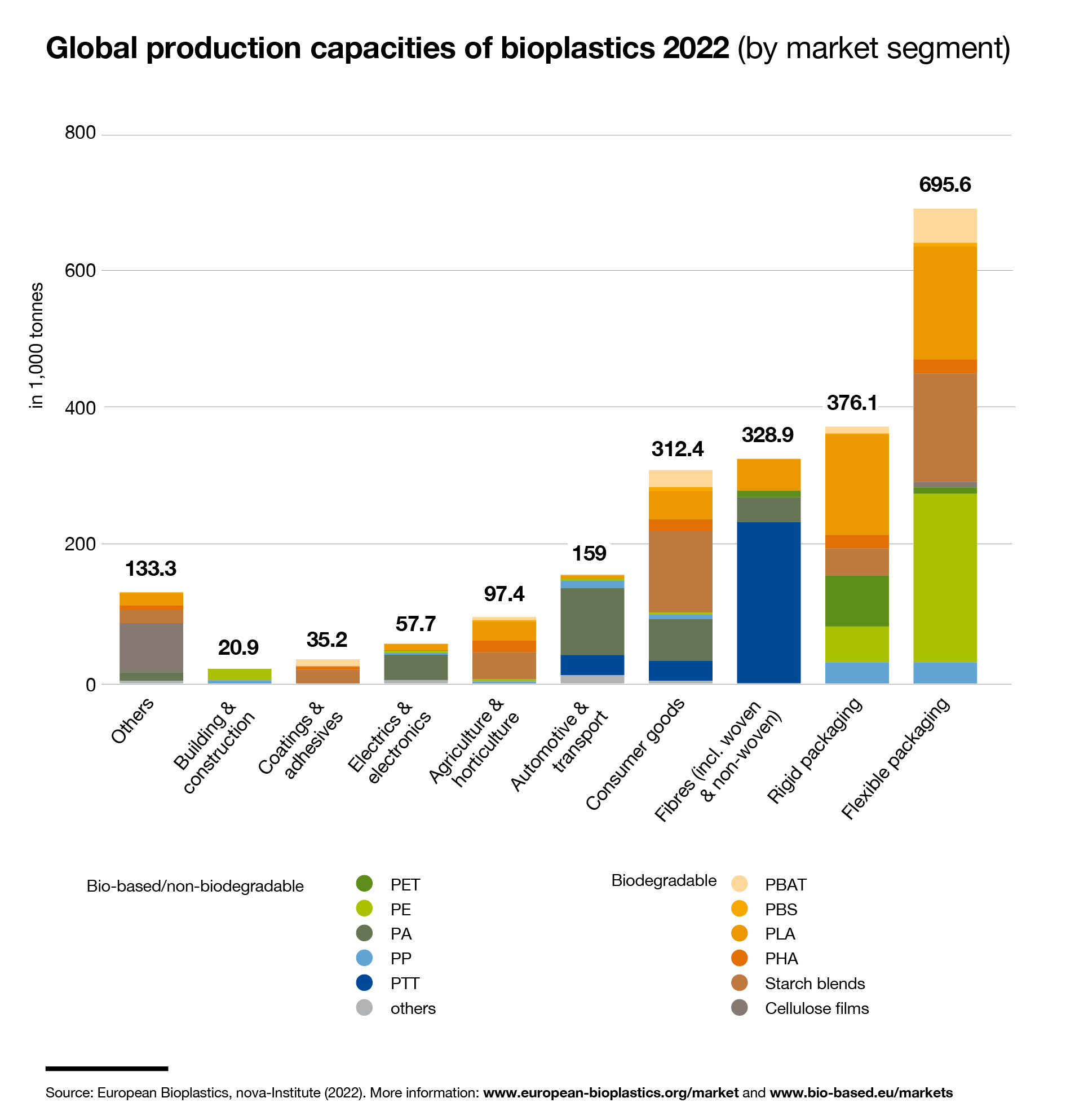 With a view to regional capacity development, Asia further strengthened its position as major production hub with more than 41 percent of bioplastics currently being produced in the region. Presently, just over a quarter of the production capacity is still located in Europe. However, Europe's share and that off other world regions will significantly decrease within the next five years. In contrast, Asia's production capacities are predicted to increase to almost 63 percent by 2027.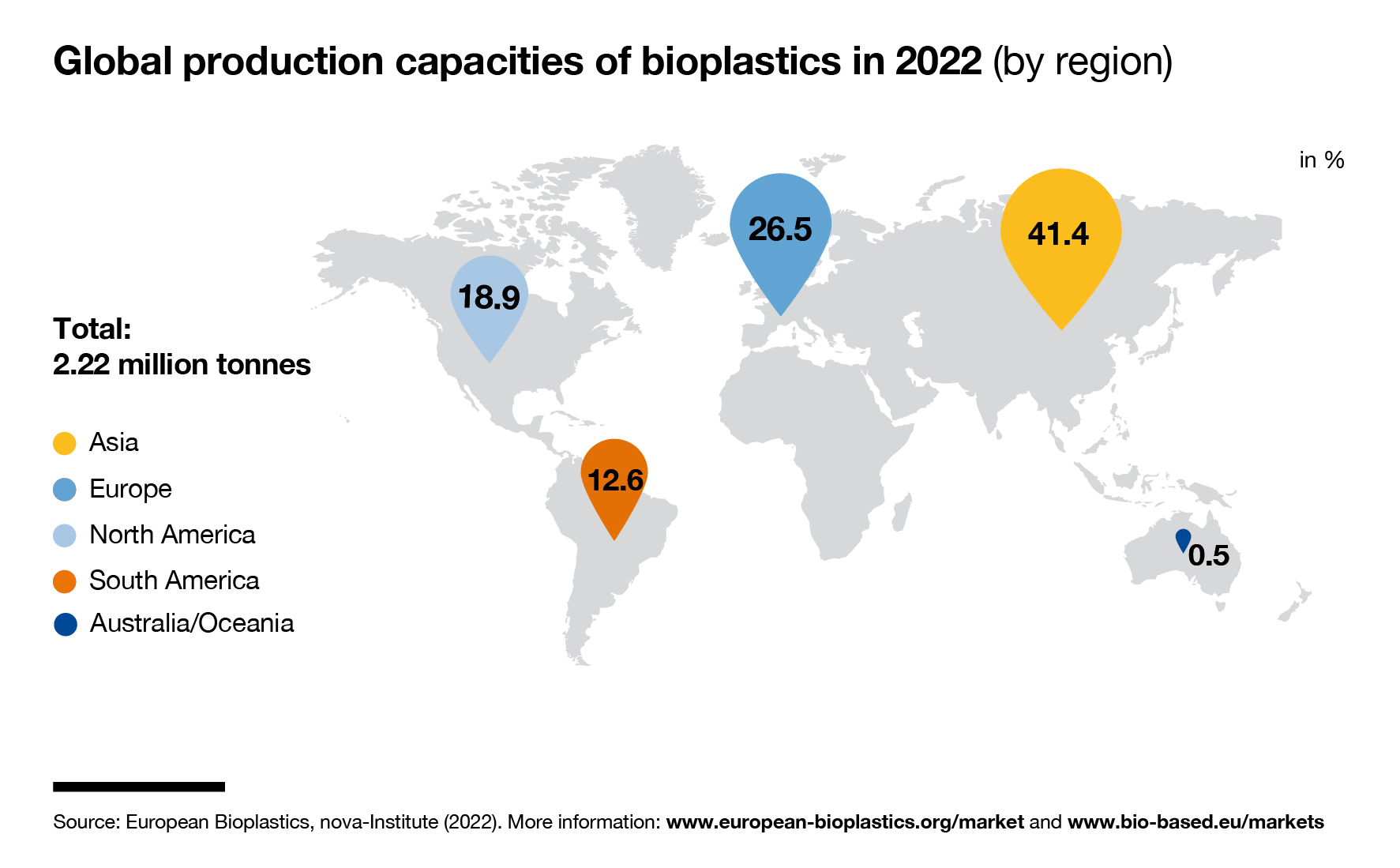 The land used to grow the renewable feedstock for the production of bioplastics is estimated to be 0.8 million hectares in 2022 and continues to account for only 0.015 percent of the global agricultural area of 5 billion hectares. Alongside the estimated significant growth of global bioplastics production in the next five years, the land use share for bioplastics will increase to, however, still below 0.06 percent. This clearly shows that there is no competition between the renewable feedstock for food, feed, and the production of bioplastics.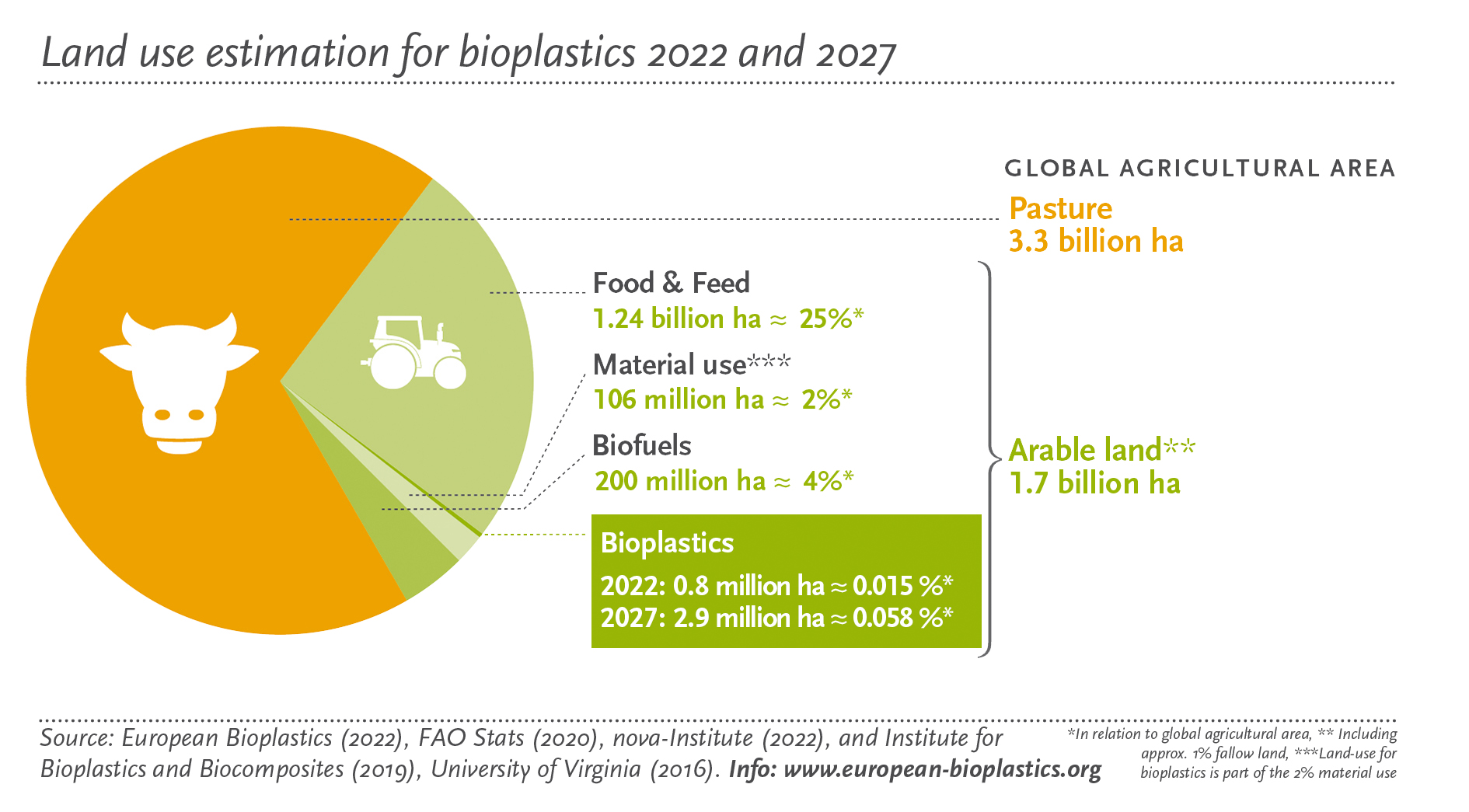 *Source: World plastics production 2021, Plastics Europe, 2022.