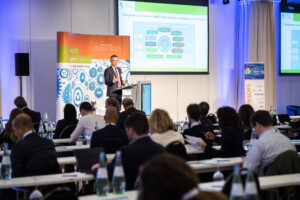 Become a speaker at the 17th European Bioplastics Conference, taking place on 6/7 December 2022, at the Maritim proArte Hotel Berlin, Germany! 
Our conference will focus on the latest innovations in bio-based and biodegradable plastics, the current political landscape, as well as environmental aspects, and opportunities for growth in the circular economy. You are invited to submit proposals for a presentation or poster on the following topics: 
Bio-based and/or biodegradable plastics – latest material and process innovations,

 

Packaging innovations using biopolymers,

 

The bioplastics policy and market developments in the EU, EU countries and worldwide,

The role of biodegradable, compostable and/or bio-based plastics in national and international waste legislation,

 

The mechanical and chemical recycling of bio-based plastics,

 

Sustainability assessment: LCA of bio-based plastics and beyond,

 

Bio-based polymers in durable applications such as toys, medical devices, electronics, automotive etc.,

 

The take up of bioplastics by big brands,

 

Current developments in the standardization of bio-based and biodegradable plastics,

 

Sneak preview 2023 – product and material pre-launch,

 

Bio-based additives and building blocks, and

 

Everything new, exciting and bioplastic-related that should be part of our programme!

 
If you would like to contribute to this year's conference, please fill out the abstract template and send it to conference(at)european-bioplastics.org. As in the past years, we also invite proposals for poster presentations, giving researchers and new projects a stage to introduce their findings in the fields of biopolymer research, packaging, and building blocks. Sounds like a good opportunity? Then, please, contact us with your proposal.  
To create the best possible programme for our conference, please note that we have a thorough evaluation process. Kindly provide us with as much detail as possible to increase your chances of being picked as a speaker. Therefore, we ask for your understanding that we cannot take all abstracts into consideration. 
The deadline for the proposal submission is 31 July 2022. 
Please note: Each speaker will receive a full conference ticket for the reduced speaker fee rate of 500 € (excl. VAT).