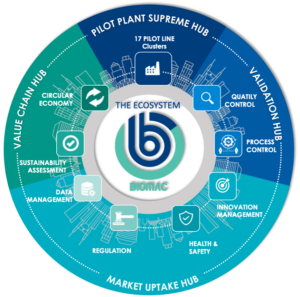 On 23 and 24 January, the BIOMAC held its project meeting which marked the completion of the first half of this project. The 35 project partners discussed the progress made in achieving the project milestones as well as the next steps for 2023. A central part of the meeting was the selection of five new cases, free of charge through the Open Call launched in December 2022. 
BIOMAC in a nutshell 
BIOMAC is an Open Innovation Test Bed (OITB) of 17 pilot plants across Europe boosting production of innovative biobased and nanomaterial platform chemicals. The project, financed by the EU Horizon 2020 programme, was launched in January 2021 and will end in December 2024. Within BIOMAC, European Bioplastics is responsible for standardization and regulation. The ultimate goal of BIOMAC is to industrialise a new generation of nano-enabled biobased materials.  
Pilot Lines progress and next steps 
The OITB is composed by 35 consortium partners and begins with biomass pre-treatment, then proceeds to nanomaterial production, intermediate platform chemicals, and, finally, to the development of end products. The complementary services of the OITB include validation, market uptake, and value chain assessment. The services offered by BIOMAC cover the whole value chain and are all accessible under fair conditions and processes through a single-entry point.  
During the meeting on 23 and 24 January, each partner provided an update on their work. The pilot lines and complementary services of BIOMAC are continually being validated in order to achieve the objectives of the five Test Cases (TeCs), as well as the actual realisation of products and components using biobased materials. The five test cases are automotive, construction, food packaging, agriculture, and printed electronics. 
Opportunity for bio-based industry to access BIOMAC services 
Stakeholders, SMEs, start-ups, and research centres will be able to access the services and facilities of the BIOMAC ecosystem free of charge via the Open Call. Five additional test cases (for example in the field of textiles, medical-biomedical, tissue engineering, single used items, packaging, etc.) that utilize biobased nanomaterials will be selected. Why choose the BIOMAC OITB for your biobased material development needs? Who can access the services of BIOMAC and how? All this info and more can be found on the Open Call Handbook. The call closes on 30 April 2023. 
For more information on BIOMAC visit the project website or its social media channels on LinkedIn, Facebook, and YouTube.