European Bioplastics recently published the updated Seedling Certification Scheme for products made of industrially compostable materials, which came into force in July 2023. 
The Seedling logo is a registered trademark owned by European Bioplastics. It proves that a product is certified industrially compostable according to the European standard EN 13432. When successfully certified, the product is compostable in an industrial composting plant under controlled conditions such as temperature, moisture and time frame – leaving nothing behind but water, biomass and CO2.  
Improved communication 
To enhance the communication towards end consumers, the improved seedling logo now includes the wording "industrially compostable", compared to the former version which only included the word "compostable", to specify the composting conditions. 
Additionally, European Bioplastics recommends extended messaging around the logo to further clarify the disposal options and avoid accidental misthrows and littering.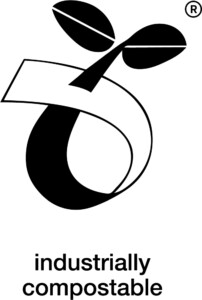 The extended messaging could include: 
Intended for industrial composting only.*

 

No proof of home compostability.*

 

Check if accepted by your local biowaste disposal service. 

 

DO NOT LITTER!

 
More information on the use of the Seedling logo and the recommendations for the extended messaging can be found in the Seedling Logo Guidelines.

*This could be neglected if product is also certified for home compostability