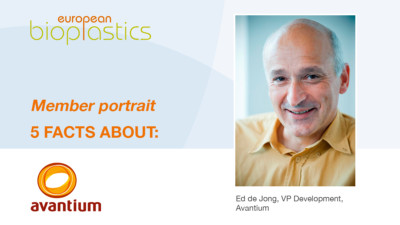 In each issue of the Bioplastics Newsletter, we present some facts about a member of European Bioplastics. This month, Ed De Jong, VP Development at Avantium, shares some interesting insights on his company.
5 facts about Avantium, Netherlands
Avantium is a chemical technology company, headquartered in Amsterdam, employing approximately 230 people, with extensive R&D laboratories and three pilot plants: one in Geleen and two in Delfzijl, the Netherlands.
Avantium is an innovation-driven company with a mission to accelerate the transition to a fossil-free world by developing groundbreaking chemicals and materials on the basis of renewable feedstock, which are fully recyclable, with a significantly lower carbon footprint, and with superior performance to the petroleum-based alternatives.
Avantium is best known for our lead product PEF (polyethylene furanoate), a novel, plant-based and fully recyclable polymer with a powerful combination of environmental and performance features. Avantium has successfully demonstrated the technology to produce PEF at the pilot plant in Geleen and is now scaling up, aiming to open the first commercial plant in 2023 in Delfzijl.
Our Ray Technology™ is a highly efficient process that converts plant-based sugars into plantMEG™,an important chemical building block for PET or PEF resin for bottles and packaging; fibers for apparel, furniture and automotive; and solvents (e.g. paint and coatings) and coolants. Avantium opened a demonstration plant in 2019 with a clear path to scale-up and commercialisation.
A number of other advanced renewable chemical technologies are being explored in our laboratories and (pre-)pilot plants and their commercial potential and possible routes to market are being evaluated.