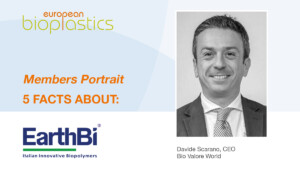 Member portrait: Bio Valore World 
In each issue of the European Bioplastics Newsletter, we present some facts about a member of European Bioplastics. This month, Davide Scarano, CEO of Bio Valore World, shares some interesting insights on his company. 
5 facts about Bio Valore World, Italy 
The EarthBi project was born within Bio Valore World SpA to provide a benefit to the company.

 

 

EarthBi is the first PLA production plant based in Europe, in Italy in particular.

The EarthBi brand, starting from the production of PLA (Polylactic Acid), embraces a class of biodegradable and compostable materials, in compound with PLA, which can be suitable for companies that use articles for filming, thermoforming, extrusion, injection moulding, blow moulding, 3D printing and coating.

Research & Development: registered patents and a continuous R&D activity in collaboration with Roma3 University, GPS Tech, spin-off of the University of Milan, and the University of Salerno.

Blockchain: The entire production cycle will be mapped through the Blockchain technology on focal points of the process, allowing to identify and track consumption, emissions, and any production batch made in the factory. The Blockchain will guarantee security and full transparency.