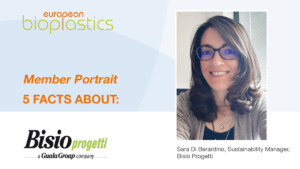 In each issue of the European Bioplastics Newsletter, we present 5 facts about a member of European Bioplastics. In this issue, Sara Di Berardino, Sustainability Manager at Bisio Progetti, shares some interesting insights on her company.
5 facts about Bisio Progetti, Italy
Bisio Progetti was founded in 1989 to develop, manufacture, and market high added value plastic products using proprietary technologies and know-how. As part of the Guala Group, the company can leverage on synergies as well as corporate assets like specialised human resources, molding technology expertise and precision automation. It offers a wide portfolio of thermoplastic items including food applications with compatible capsules, reaching high performances in minimal thickness in co-injected mono-component barrier capsules. In latest years, capsules are also made from compostable materials.
The first capsule made from compostable material was launched in 2015, reaching today an oxygen barrier comparable to standard products. In this we are working in close partnership with suppliers.
Product design is critical to ensure quality in terms of functionality, consumer experience, and disintegration during the composting process. Thanks to our engineers' expertise, we have patented our opening system's unique technology.
Bisio Progetti is constantly exploring and evaluating new alternative compostable materials with the ambition to extend the portfolio and improve performances with home compost solutions.
Circularity and environmental impact are at the heart of our sustainability journey: work is in progress to assess product carbon footprint with alternative materials through LCA studies, including end of life evaluations.