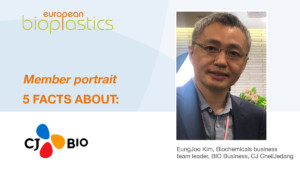 Member portrait: CJ Europe 
In each issue of the Bioplastics Newsletter, we present some facts about a member of European Bioplastics. This month, Eung Joo Kim, Biochemicals Business Team Leader at CJ Europe, shares some interesting insights on his company.  
5 facts about CJ Europe, Germany  
CJ 

CheilJedang

, starting as sugar manufacturer in 1953, has led the Korean food Industry and has grown into a global 

f

ood and 

bio

 company. CJ 

Cheil

J

edang

's

 

bio

 business produces 

globally 

leading

 

bio

 products of amino-acids and nucleotides, accomplished with outstanding microbial fermentation technology, developed over the past 60 years.

Utilizing capability, technology, and know-how on amino acids, CJ is now expanding 

its bio

 business into the biochemical sector and will offer sustainable solutions to the plastic industry. Starting from early 2022, bio-based chemicals (

p

entanediamine

, 

b

utanediamine

) and biodegradable plastics (PHA) will be produced in the newly construct

ed

 biochemical complex.

CJ's 

pentanediamine

, C5 aliphatic diamine, is a unique bio-based building block for various products. Its main application is bio-polyamide like PA56 and PA510

. T

he unique properties of 

pentanediamine

 offer both sustainable and functional properties to the textile and 

EP 

industries. Additionally, 

pentanediamine

 can be converted to isocyanate which is used for polyurethane coating, adhesive, and ink with several advantages like high reactivity.

CJ's 

butanediamine

, C4 aliphatic diamine, is a bio-based drop-in chemical. Its main application is PA46

,

 and due to the chemical structure of 

butanediamine

, PA46 shows excellent properties as a super engineering plastic.

CJ's PHA (P3HB-4HB) is a bio-based and soil-

 as well as

 marine-

biodegradable polyester generated from microorganisms. Generally, PHA is composed of P3HB and diverse co-polymers, depending on concentration of co-polymer, and crystallinity is adjustable. CJ's PHA (amorphous type) has high contents of co-polymer, P4HB that makes it has a unique property like rubber for being able to improve impact strength.