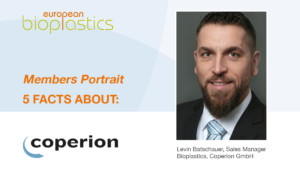 In each issue of the Bioplastics Newsletter, we present some facts about a member of European Bioplastics. This month, Levin Batschauer, Sales Manager Bioplastics, Business Unit Compounding, Recycling, and Battery of Coperion GmbH, shares some interesting insights on his company.   
5 facts about Coperion, Germany 
Coperion is an international technology leader in compounding and extrusion systems, feeding and weighing technology, bulk material handling systems and services. It designs, develops, manufactures, and maintains systems, machines, and components for the plastics industry. The focus is on systems for the production of bio-based plastics and biodegradable products. Coperion has comprehensive process know-how in the processing of bioplastics and is known for its first-class technology solutions.

 

Coperion has years of experience in the fields of cooking extrusion and plastic compounding. It can provide the entire portfolio necessary for the production of bioplastics – from raw material transfer and feeding to compounding, pelletizing, drying, conveying, and the packaging of pellets.

Coperion has the world's most extensive test labs for compounding and extrusion, material handling, feeding, and conveying helping to optimize processes for the manufacturing of bioplastic compounds.

 

Following comprehensive studies in Coperion's extrusion test lab in Stuttgart, Germany, Coperion together with RenCom has developed the innovative extrusion process of RENOL®, a lignin-based, high-performance material that is able to replace plastics.

 

Coperion has supported West African blown film manufacturer Asahel Benin Sarl. to set up a sustainable production of short-life plastic products. Since 2018, the import, production, sale, and possession of petroleum-based plastic bags and packaging has been banned in Benin. Supported by Coperion technology and process engineering, Asahel Benin was able to switch its production completely to bio-based plastics.