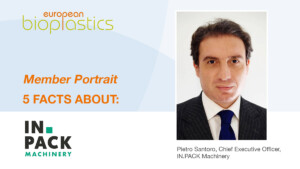 In each issue of the Bioplastics Newsletter, we present 5 facts about a member of European Bioplastics. In this issue, Pietro Santoro, CEO at IN.PACK Machinery, shares some interesting insights on his company.
5 facts about IN.PACK Machinery, Italy
IN.

PACK Machinery, comprising of Amutec, Mobert and SCAE, is a leading designer and manufacturer of a full range of machinery for flexible packaging. It is committed to allow its customers across different end-markets and applications to achieve their ambitions in sustainability. This is achieved through a diverse portfolio of different solutions and materials having installed over 5,000 machines worldwide.

IN.

PACK companies have been pioneers in developing machines offering the best processing capabilities on bio-compostable and recycled polymers, and we recently expanded to cellulose and paper. We always believed sustainability is a complex endeavor which requires technically viable solutions involving different materials and different technologies. The membership in European Bioplastic goes fully in line with this thinking, as the association is designed to share know-how and experiences, and to foster innovation awareness.

IN.

PACK masters the entire product range in the field of flexible packaging equipment (bag on roll, loose bag, pouch, wicket and wire welding machineries) and can support the achievement of full sustainability with valuable know-how to drive the circular economy approach in these important applications.

IN.

PACK's product portfolio covers any kind of flexible packaging application, such as for food, waste, e-commerce, hygienic, pet food, industrial, security, etc. guaranteeing top level productivity performances with sustainable materials.
A comprehensive ESG approach is fully deployed across the entire IN.PACK organisation, our R&D and manufacturing with the goal of incorporating non-economic factors in order to ensure a successful development of all our stakeholders inside and outside the company.