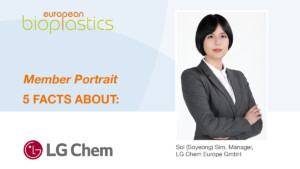 Every month, we present 5 facts about a member of European Bioplastics. This time, Sol (Soyeong) Sim, Manager at LG Chem Europe GmbH, shares some interesting insights on her company.
5 facts about LG Chem
Founded in 1947, LG Chem is a leading global chemical company with a diversified business portfolio in the key areas of petrochemicals, advanced materials, and life sciences.
In October 2020, LG Chem succeeded in developing PLH (Poly Lactate 3-Hydroxypropionate), a new biodegradable material made of 100% bio-content using glucose and waste glycerol that can realize mechanical properties equivalent to synthetic resins such as PP (Polypropylene) and is actively working to solve environmental pollution and microplastic problems. As a single material, not mixed, PLH newly developed by LG Chem can be stretched by up to 20 times in terms of flexibility compared to existing biodegrad
able products and maintain transparency even after processing, which is expected to have a great ripple effect in the eco-friendly packaging industry, where biodegradable materials are mainly used.
LG Chem is partnering with Archer Daniels Midlands (ADM) to establish a joint venture plant for Poly Lactic Acid (PLA), a biodegradable bioplastic. The two companies plan to build a 75,000-ton PLA plant in the United States and a Lactic Acid (LA) plant in the United States by 2025.
Once the joint venture is established, LG Chem will be able to incorporate renewable raw materials into the development of various bioplastics based on vertical integration and will secure the production capability of high-purity lactic acid on a commercial scale required for PLA production.
LG Chem plans to capture the bioplastics market based on PLA production. As part of our sustainability strategy, LG Chem plans to accelerate the commercialization of biodegradable resins that can contribute to responding to climate change and solving environmental problems such as waste plastics.