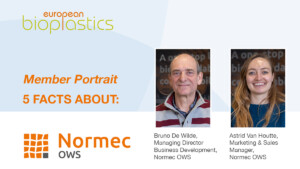 In each issue of the European Bioplastics Newsletter, we present 5 facts about a member of European Bioplastics. In this issue, Astrid Van Houtte, Marketing & Sales Manager, and Bruno De Wilde, Managing Director Business Development, at Normec OWS share some interesting insights on their company. 
5 facts about Normec OWS, Belgium 
Since November 2020, Organic Waste Systems (OWS) has become part of the Normec Group, an international group active in the field of testing, inspecting, certification, and compliance. After a recent renaming, the company will now continue its services as Normec OWS with a new logo. This partnership will help Normec OWS continue to grow in collaboration with other Normec entities, allowing them to give a more streamlined and complete service. Normec OWS still offers identical testing services, and the large, experienced team remains unchanged.

 

Normec OWS is a strictly independent and ISO 17025 accredited laboratory with over 30 years of experience in the field of assessing biodegradability, compostability, and ecotoxicity. Within this field, Normec OWS actively participates in several standardization organizations, such as ASTM, CEN, and ISO as well as in various certification committees. Based on their experience on the end of life of materials and standardization, they offer besides testing also consulting services and workshops/trainings.

 

Normec OWS is headquartered in Ghent, Belgium but also has a USA-based lab since 2021 in Dayton, Ohio. The company counts over 100 people, of whom 60 are working full time on the end-of-life testing. Total testing capacity is more than 3,500 reactors. Next to their biodegradability division they have also other divisions providing following services: sustainability assessment (LCA, C-footprint, etc.), physico-chemical and biological analyses and auditing, and controlling services (mainly inspection in packaging recycling and littering).

 

Biodegradability testing is offered in several environments: compost, soil, fresh and marine water, landfill, and anaerobic digestion. Next to the tests required for certain certification, they also perform various other tests (like seawater biodegradation in pelagic, sediment, and interface) and are also often involved in new test development. The approach is customer-centred with a tailor-made testing strategy and set-up.

 

Normec OWS is often suggested as preferred laboratory by its customers, as they are recognized by all certification bodies worldwide active in the field of compostability. All testing is performed under conditions of strict quality control, confidentiality, and with a strictly independent and objective scientific approach, since Normec OWS is not involved in any product development itself.