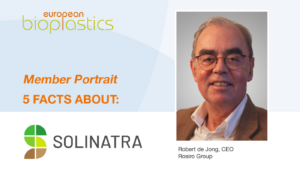 In each issue of the Bioplastics Bulletin, we present 5 facts about a member of European Bioplastics. In this issue, Robert de Jong, CEO at Rosiro Group BV, shares some interesting insights on his company and the Solinatra brand.
5 facts about Solinatra, a brand of Rosiro Group BV, Netherlands
Formed in 2020, in response to the need for sustainable materials and to accelerate the transition away from single use plastics, Solinatra is a brand of Rosiro Group BV. Headquartered in the Netherlands, we have a research & development centre in England.
Solinatra is not just a product, it's a concept. It is a unique way of approaching the formulation of composite bioplastic materials. Solinatra is a unique material, with a patented process for formulating completely natural, biodegradable alternative to plastic.
We have developed blends of Solinatra suitable for a wide variety of products and packaging. The first to access market has been for Nespresso compatible coffee capsules. With over 70 billion single serve capsules produced each year globally, our home compostable capsule presents a solution that does not compromise on convenience or sustainability.
Utilising plant waste and agricultural by-products as the base for our materials, we have developed a range of blends of Solinatra each specifically formulated for its application. Extensive research into the physical properties of abundant waste materials has resulted in an understanding of how these attributes can be utilised in complex formulations to mimic the properties as found in traditional plastics. Researching plant characteristics in this way, we are developing a portfolio of plants suitable for different applications, creating bespoke formulations based on the characteristics of the plant material.
Solinatra completely biodegrades, in anaerobic and aerobic conditions, without leaving behind microplastics or any contaminants. For single use items, especially items contaminated with food that are hard to recycle, Solinatra is a fantastic alternative to traditional, fossil fuel-based plastic.