Certified bio-based and compostable coffee capsule for Nespresso systems
Original Food GmbH presented a certified compostable coffee capsule for Nespresso systems at Biofach 2016 trade fair earlier in February. With the launch of the capsule, the producer of the renowned Kaffa wild coffee underlines its commitment in environmental protection and sustainability, including the entire production chain from the origins of the coffee in Ethiopia to the waste treatment. The entire capsule, including the cover, is bio-based, free of aluminium, and compostable according to the European standard for industrial composting EN13432. Within 12 weeks, more than 90 percent of the material will have turned into CO2, water, and humus. The coherence to the standards has been tested and certified, and is demonstrated by the Seedling logo on the product packaging.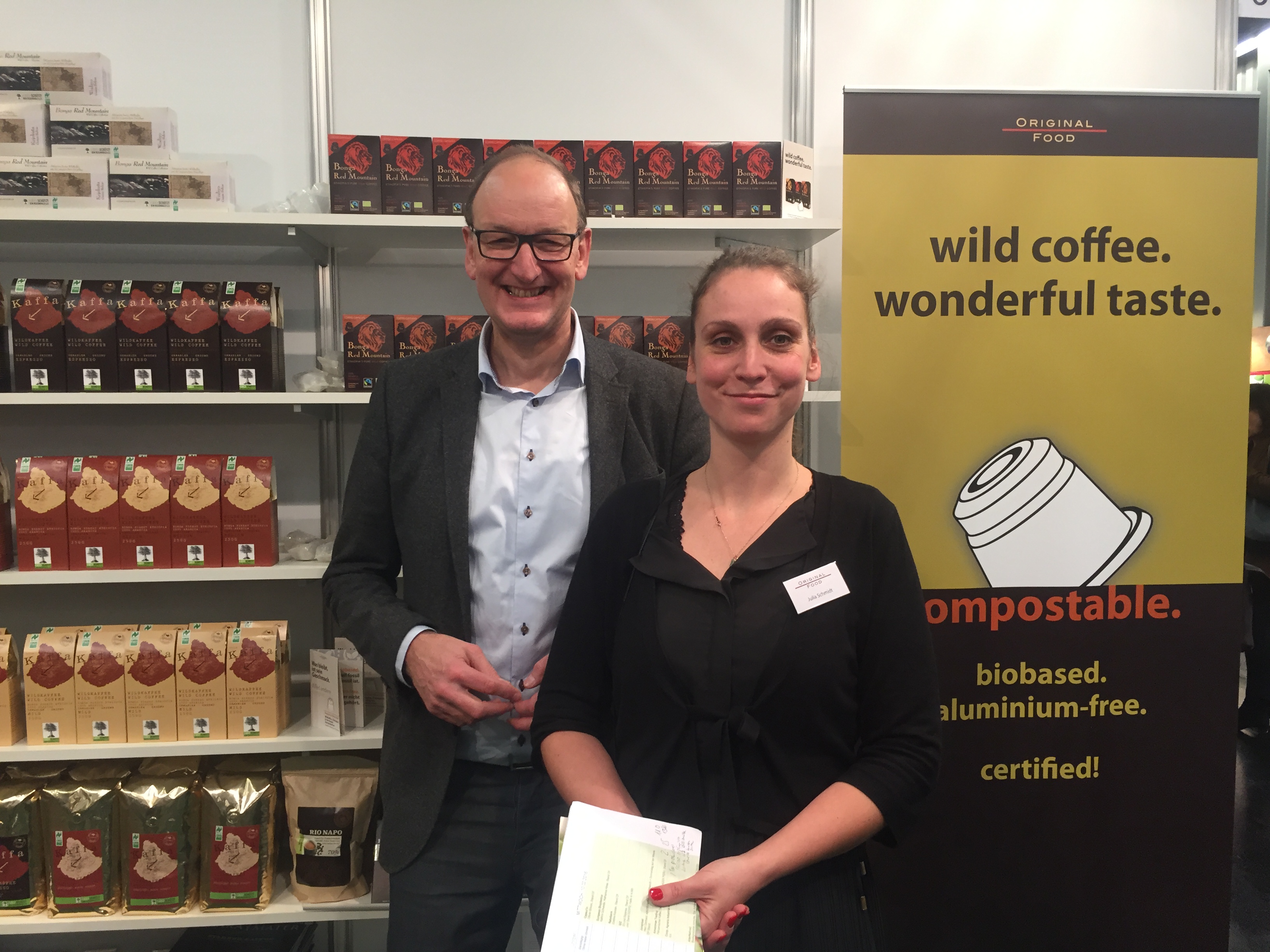 Florian Hammerstein and Julia Schmidt from Original Food at their boot at Biofach 2016
IKEA one step closer to becoming carbon negative
IKEA and Newlight Technologies have entered into a partnership that will supply the world's largest furniture retailer with Newlight's AirCarbon material and give IKEA exclusive rights in the home furnishing industry to use the innovative material. Newlight's carbon capture technology converts bio-based greenhouse gases (first from biogas and later from carbon dioxide) into AirCarbon thermoplastics that can be used to make furniture. The production process uses concentrated methane-based carbon emissions, including emissions generated from farms, water treatment plants, and energy facilities to produce plastics through their patented gas-to-plastic bioconversion technology. IKEA has recently announced at the European Bioplastics Conference 2015 that, by 2020, 100 percent of the retailer's plastics will be made from renewable and recycled sources. Now, the furniture retailer goes one step further and aims to go carbon negative. This is an immensely important signal for the advanced bioeconomy that we would like to see more of, and it proves that bioplastics have become mainstream.
New biomedical polymers produced from microorganisms
A research team at the Korea Advanced Institute of Science and Technology established a biorefinery system to create non-natural polymers from natural sources, allowing various plastics to be made in an environmentally-friendly and sustainable manner. The team adopted a systems metabolic engineering approach to develop a microorganism that can produce diverse non-natural, biomedically important polymers and succeeded in synthesizing poly(lactate-co-glycolate) (PLGA), a copolymer of two different polymer monomers, lactic and glycolic acid. PLGA is biodegradable, biocompatible, and non-toxic, and has been widely used in biomedical applications. Inspired by the biosynthesis process for polyhydroxyalkanoates (PHAs), biologically-derived polyesters produced in nature by the bacterial fermentation of sugar or lipids, the research team designed a metabolic pathway for the biosynthesis of PLGA through microbial fermentation.