Novamont opens first commercial-scale production plant for biobased BDO
Novamont, the Italy-based producer of the Mater-Bi family of bioplastics, has opened the world's first commercial-scale plant for the production of bio-based butanediol (1,4 BDO), in Bottrighe (Veneto Region), North East Italy. Novamont invested over €100 million in MATER-BIOTEC, which is now the world's first dedicated industrial plant for the production of bio-based BDO. Genomatica, a leader in the field of bioengineering based out of California, has developed the microorganism that can produce BDO directly from glucose or sucrose. Having licensed Genomatica's technology, the MATER-BIOTECH plant will produce 30,000 tons of 1,4 BDO per year from renewable sugars through fermentation. 1,4 BDO is a chemical intermediate that is generally obtained from fossil sources and is widely used as a solvent for the production of plastics, elastic fibres, and polyurethanes. The production of the bio-based BDO in the new plant will, according to Novamont, save more than 50 percent of CO2 emissions compared to conventional BDO production.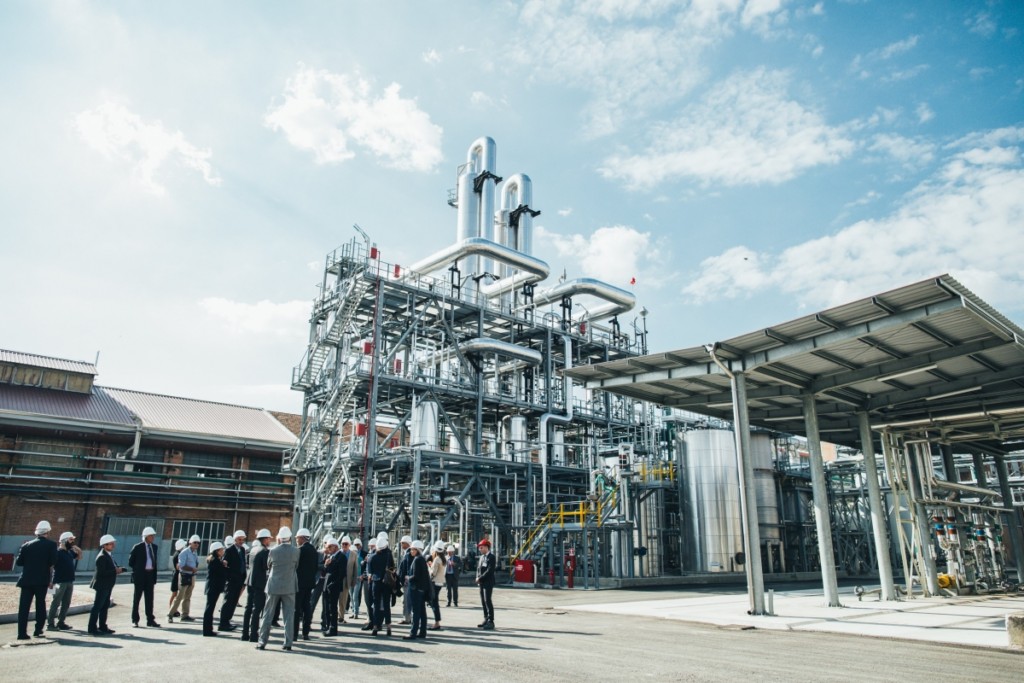 Inauguration of the Mater-Biotec plant in Bottrighe, Italy, in September 2016 (c) Novamont
Synvina: BASF and Avantium set up joint venture for the production of new polymer PEF
BASF and Avantium established a joint venture, named Synvina, for the production and marketing of furandicarboxylic acid (FDCA), which is produced from renewable resources, as well as the marketing of the new polymer polyethylenefuranoate (PEF) based on the new chemical building block FDCA. Synvina, headquartered in Amsterdam, The Netherlands, plans to invest a mid-three-digit million euro sum to build a reference plant with an annual capacity of up to 50,000 metric tons per year at BASF's Verbund site in Antwerp, Belgium, and to license the technology for industrial scale production. For the production of FDCA, Synvina will use the YXY process® developed by Avantium which is based on fructose as renewable raw material.
Bio-based FDCA is considered to be a promising platform chemical and a building block for various downstream products for different applications. Most significantly, FDCA is used for the production of PEF, a polyester suitable for food and beverage packaging as well as for fibres for carpets and textiles. For the packaging industry, PEF offers better characteristics in comparison to conventional plastics, such as improved barrier properties for gases like carbon dioxide and oxygen, leading to a longer shelf life of packaged products. It also offers a higher mechanical strength, thus thinner PEF packaging can be produced and fewer resources are required. Additionally, FDCA can be processed to polyamides for engineering plastics and fibres, to polyurethanes for foams, coatings and adhesives and to esters for personal care products and lubricants.