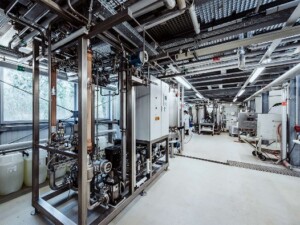 The "European Sustainable BIO-based nanomaterials Community" (BIOMAC), a Horizon 2020 funded project, launched an open call for SMEs, large companies, research and development organisations working in the field of nano-enabled bio-based material (NBM) technologies and solutions. The official launch started with the online presentation of the Open Call on the BIOMAC´s website on December 14.
How does this call benefit the bioplastics community?
The goal of this call is to offer a wide range of free services through the existing Open Innovation Test Bed (OITB). In total, five applicants will be able to take their existing nanotechnologies and advanced materials from validation in a laboratory (i.e., technology readiness level TRL 4) to prototypes in industrial environments (i.e., TRL 7). The five applicants will be granted free access to physical facilities, capabilities, and services required for the development, testing, and upscaling of nanotechnology and advanced materials in industrial environments. For members of the bioplastic's community seeking to improve and scale up their product properties with innovative, sustainable bionanomaterial solutions, this is an unprecedented opportunity.
Lifetimes, UV resistance, barrier functions, and antimicrobial effects are just some of the properties which can be addressed and improved. Specifically, the five applicants will have access to the "Pilot Lines" of BIOMAC, which can perform biomass fractionation and pre-treatment, production of intermediate materials and nanocomposites, and produce the final products and formulations. Some examples of the materials that the Pilot Lines can produce are cellulose, hemicellulose, and lignin, their nanosized equivalents (nanocellulose, nanolignin), biochar, monomers such as glycols, succinic, and lactic acid. Processes for final product formulation include but are not limited to reactive extrusion, additive manufacturing, coating, resin production, nanopatterning.
BIOMAC in a nutshell
The BIOMAC open innovation test bed approach to NBM production is comprehensive. A pilot plant supreme hub includes seventeen expert partners for production, from biomass processing to final biobased polymer product. Three transversal service hubs cover all complementary services of quality control, characterization, standardization, modelling, innovation management, health and safety, regulation, data management, sustainability assessment, supply management and circularity. European Bioplastics is a BIOMAC project partner, tasked to cover the topics regulatory framework and standardisation within the project.
Who is eligible and how does the process work?
The BIOMAC OITB will accept applications from SMEs, mid- and large-cap companies as well as from research organisations based in European Member States and EU-associated countries whose bionanomaterial projects reach TRL4 to TRL5. The open call landing page will take applicants through the straight-forward process of submitting their proposals, which will be up to 6 pages long.
The Open-Call opened in December 2022 and will close in Mid-June 2023.
The proposals will be submitted online using the application form available on the BIOMAC Open Call platform on the project website.
A handbook containing information on the call and guiding users through the application process is available for download on the Open Call platform.
For the English version press release click here.
Further contact details: https://www.biomac-oitb.eu/; biomac@chem.auth.gr
BIOMAC project has received funding from the European Union's Horizon 2020 Research and Innovation Programme under Grant Agreement No. 952941