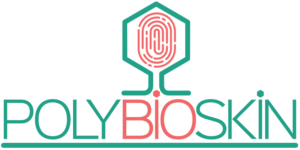 The project PolyBioSkin, which was set out in 2017, aims to develop and validate pilot processes for producing prototypes of three globally significant, high performance, skin-contact products: diapers, beauty masks and wound dressings. These prototypes have to be predominantly bio-based and also biodegradable according to EN 13432. Two years on, the project is well advanced and delivering on some of the key challenges.
For the baby diaper topsheet – the skin-contact layer of the diaper–, the consortium successfully formulated a predominantly PLA-based biopolymer formulation with >90% bio-based content. The other key part of the baby diaper, namely the bio-based superabsorbent core, has been developed on the basis of cellulose and shown to achieve the desired absorbency of 20g/g.
Four different potential cosmetic beauty mask prototypes have been investigated and the most suitable ones have been selected for further optimisation, testing, and upscaling. In parallel to the production scale-up, biocompatibility and immunomodulatory tests will be performed.
Thirdly, the materials and the of the wound healing patch application have been determined. The skin contact layer will be based on anelectrospun PHA formulation specifically produced for use in a biomedical application. It will be functionalised with a combination of active ingredients primarily based on chitin and lignin complexes bearing active molecules to achieve enhanced antiseptic and antioxidant properties.
The latest newsletter of the research project features an interview with Hasso von Pogrell, Managing Director of European Bioplastics, an overview of the upcoming PolyBioSkin activities and an article about the partner project ENABLING.
Read the full newsletter here.
In case you would like to learn more about the project, please visit PolyBioSkin website.
This project has received funding from the Bio Based Industries Joint Undertaking under the European Union's Horizon 2020 research and innovation programme under grant agreement No. 745839.