The Ellen MacArthur Foundation announced the winners of its $1 million Circular Materials Challenge at the World Economic Forum in Davos. The winners will join a 12-month accelerator programme working with experts to make their innovations marketable at scale.
Among the winners are a number of innovative biopolymers and applications for bioplastics, including EUBP member Fraunhofer Institute for Silicate Research (ISC). The team around Dr Sabine Amberg-Schwab, Head of Functional Coatings Department at Fraunhofer ISC, developed a coating with silicate and biopolymers that can be used in many different food packaging applications protecting food against premature degradation and is fully compostable. The new functional coatings called bioORMOCER® have excellent barrier properties against water vapor, oxygen and flavors and are proven to be suitable for foodstuffs, especially in the convenience sector.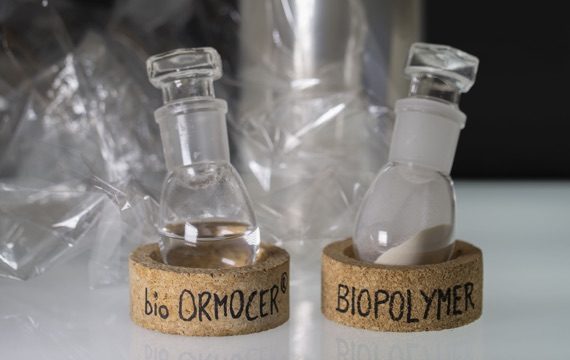 Read more on what lead the team to come up with this idea on the NPE website.
Other winners of the Circular Materials Challenge include VTT Technical Research Centre of Finland, who has created a compostable multi-layer material from agricultural and forestry by-products. The VTT material is built from two types of cellulose that have complementary barrier properties. VTT has combined them into a compostable three-layer film, which looks and performs like conventional plastic but is entirely bio-based and compostable. Due to its good barrier properties against gases, grease, mineral oils and moisture, the material is well suited for many food packaging applications.
Full Cycle Bioplastics, Elk Packaging, and Associated Labels and Packaging have been awarded for their compostable high-performance material from renewable materials, agricultural by-products and food waste to pack a broad range of products from granola bars and crisps to laundry detergent. This multi-layer packaging film is made using compostable PHA (a naturally occurring biopolymer) together with cellulose-based materials. Because the PHA is made from organic waste, composting the material after use can effectively provide the raw material for making new plastic, providing an innovative solution to close the resource cycle.
Over 60 proposals in total were sent to the Circular Materials Challenge. Some exciting innovations that didn't make the winning group received an honourable mention, including EUBP member and research institute AIMPLAS, which proposed a low-cost method of making thermoplastic PVOH, a high oxygen barrier, water soluble and compostable material, which is an alternative to the barrier material commonly used in multilayer barrier packaging.
More information on the other winners of the New Plastics Economy Innovation Prize can be found here.