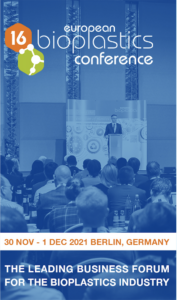 The 16th European Bioplastics Conference is approaching with great strides, and we are excited to welcome you on 30 November and 1 December 2021 in Berlin or online. The hybrid format of this year's event will allow you to either join in person at the MOA Hotel Berlin, offering fantastic networking opportunities, or comfortably log-in from your home base. Secure your delegate pass today and be part of the leading conference of the international bioplastics community. 
Conference attendees can look forward to: 
Kestutis Sadauskas (DG ENVI) sharing the EU Commission's perspective on bioplastics-related aspects of the European Green Deal.
Francesca Stevens (Europen) giving an overview on Europen's position towards key political processes, focusing on the revision of the packaging legislation.
Miriam Weber (Hydra) providing the latest findings regarding the biodegradability of plastics in the marine environment.
Peter Désilets (Pacoon) talking about the potentials of bioplastics under an international perspective, and new packaging trends.
Oliver Ehlert (DIN Certco and convenor of CEN Committee on Degradability of Packaging) presenting the latest standardisation developments for industrial and home composting.
Yvonne Lievens (Mattel) speaking about Mattel's vision for sustainable toys.
Fabrizio Barillari (Röchling) and Sebastian Heßner (Evonik) talking about bio-based plastics in the automotive industry.
EUBP's Managing Director Hasso von Pogrell presenting the latest bioplastics market data
…and, of course, many, many more!   
Follow the latest updates on the conference programme on our EUBP website and our EUBP social media channels Twitter and LinkedIn. 
If you would like to organize for your company to have a branded presence in the exhibition hall, become an official sponsor of the event, or simply secure your places at the conference early on – please get in touch with Denise Valdix via conference@european-bioplastics.org. We look forward to hearing from you!