EU Circular Economy Package
European Bioplastics (EUBP) supports the European Commission's commitment to implement an ambitious Circular Economy policy that links with the bio-economy strategy and climate change agenda.
The European bioplastics industry has a strong record for developing innovative technological solutions and aligning industrial objectives with environmental sustainability. In order for Europe to reinforce its position as a front-runner of resource efficiency and green growth, forward-looking sectors with strong environmental credentials and growth potential, such as bioplastics, need to be promoted. We therefore call on the Commission to adequately consider the role of this sector and the bioeconomy at large in its forthcoming proposal, as further explained in our considerations paper.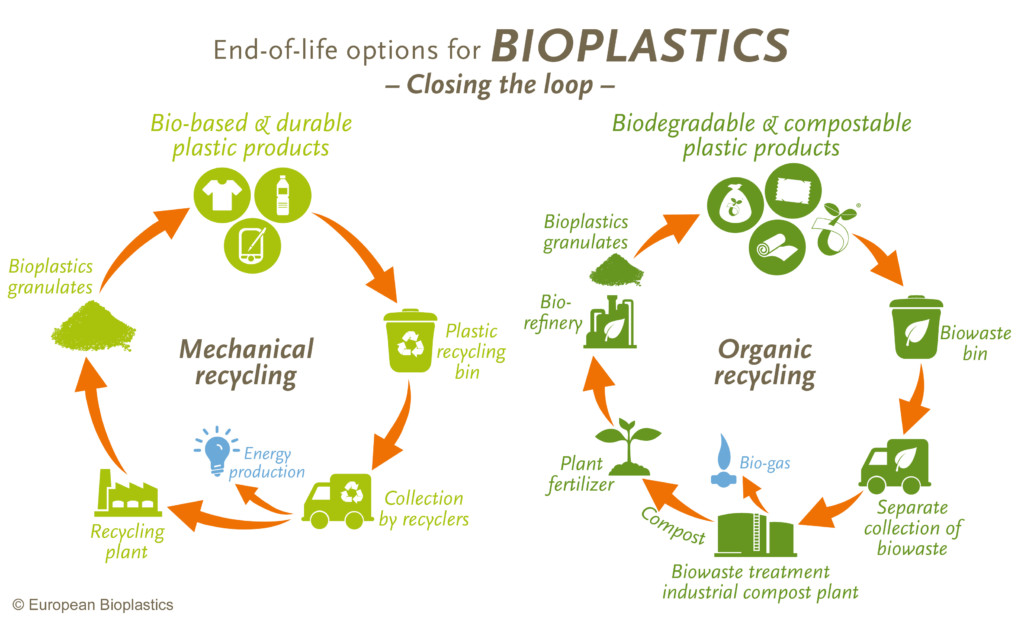 We agree with the underlying principle of the circular economy that waste should be regarded as a valuable resource. Materials used for industrial and commercial purposes should safely (re-)enter re-use, mechanical or biological recycling systems by design or intention. Therefore, a new, more ambitious Circular Economy Package should address a range of economic sectors and:
Introduce concrete provisions to stimulate the bioeconomy and use of biobased materials.
Increase waste management efficiency by promoting the separate collection of biowaste for organic recycling.
Introduce additional economic measures to promote the market introduction of biobased products, including Green Public Procurement and an EU-wide Eco-label, both of which consider a certain biobased content of products.
With the right framework conditions in place, the European bioplastics industry could realise its immense employment growth potential while helping to lower the impact on the environment within the EU.
By 2025:
Production capacities of bioplastics within the EU will have grown twentyfold to 5.7 million tonnes; this amounts to around 10% of general plastics production.
Up to 160,000 high skilled jobs will have been created.
The most efficient renewable feedstock, sustainably grown, will be readily available and will be chosen on a case-by-case basis.
Biobased plastics will have contributed decisively to reach the EU's 2020 GHG-reduction targets.
Biodegradable and compostable plastics will be supporting efficient waste management by facilitating separate biowaste collection for organic recycling.
For more information, have a look at our Position Paper on the EU Circular Economy Package.