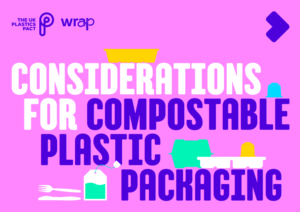 WRAP, a not for profit organisation, which leads the UK Plastics Pact, has recently published a new guidance to help businesses make informed choices when considering the use of compostable packaging. The document clarifies what compostable plastics packaging is, outlines current waste management practices and identifies key applications and opportunities within the existing infrastructure. Furthermore, it gives useful recommendations for the communication with citizens on appropriate disposal. WRAP's considerations focus on the market in the UK, relating to the products and infrastructure that are available to packaging designers and specifiers on the island. However, the guidance is of general significance for the use of compostable plastic packaging.
The key applications and opportunities that are identified for compostable plastic packaging are items, which are likely to have food residue on them and could potentially facilitate the recycling of food waste. Thus, the list includes food caddy liners (and other bags such as carrier bags or fruit and vegetable bags that could be used as food caddy liners), fruit and vegetable stickers, tea bags, coffee pods and ready meal trays. According to WRAP, especially in 'closed loop' situations, such as festivals, compostable packaging provides useful solutions. Rigid compostable packaging, such as cups, would have a clear benefit in this kind of 'closed' systems.
In the context of consumer communication, the guidance emphasizes the importance of a clear labelling on the disposal of the respective compostable plastic packaging. It would be crucial to explain whether the item can be composted at home or not. According to a previous consumer study by WRAP in 2019, 77% of the British citizens believe that compostable plastic is better for the environment than other types of packaging. Despite this confidence in compostable plastic solutions, the guidelines emphasize that it's important to be clear on when it is viable to use them. Besides, WRAP underlines that the claim 'recyclable' should only be made if the compostable packaging product can be recycled in practice. The document also highlights certain applications of compostable plastics, which are classified as absolute no-brainers. These include fruit stickers and tea bags.
In accordance with the guidance's strong focus on consumer communication, WRAP will launch a corresponding campaign in March, which will provide information about plastics, including compostable plastics.