It was one of the most shared news headlines of this month: IKEA and Neste announced their partnership to deliver bio-based plastics for the Scandinavian homeware giant.
At the 10th European Bioplastics Conference in November last year, IKEA first announced its ambitious plan to make 100 percent of their plastic products from renewable and recycled sources by 2020. Now we know that Neste will be delivering the renewable solutions. Neste is an oil refining company and supplier of renewable diesel and renewable polymers located in Finland. The partnership between the two companies aims to produce plastics and other materials that are already used today, but replacing virgin fossil feedstock with renewable or recycled waste and residue raw materials instead. The companies will work with a number of partners in the supply chain and invite other companies to join the initiative.
"IKEA wants to contribute to a transformational change in the industry and to the development of plastics made from recycled or renewable sources. In line with our goals, we are moving away from virgin fossil-based plastic materials in favor of plastic produced from more sustainable recycled or renewable sources such as waste and residues, not using palm oil and it's derivatives as feedstock", says Lena Pripp-Kovac, Sustainability Manager, at IKEA of Sweden.
New certification for furniture promotes the use of bio-based materials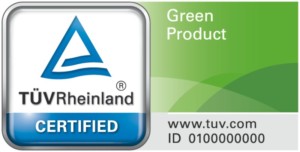 The Green Product Mark is a new voluntary environmental labelling scheme that indicates the overall environmental preferability of different product categories, including furniture, wearable devices and phones, kitchen machines and TVs. According to the scheme, plastic components of furniture will have to consist of at least 20% bio-based materials in order to be awarded with the label.
Other certification criteria for the Green Product Mark include the prevention of pollution, sustainable use of resources, and climate change mitigation. The certification scheme is owned by TÜV Rheinland, a leading international technical service and certification scheme provider, and based on product life cycle considerations that helps to communicate verifiable and accurate information on environmental aspects of such products.