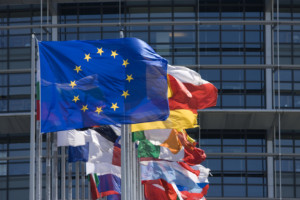 The European Commission launched an initiative regarding a study on the 'Relevance of biodegradable and compostable plastics in a circular economy'[1]. European Bioplastics welcomes the initiative, as scepticism amongst stakeholders towards the relevance of biodegradable certified compostable plastics usually stems from a vague notion about their characteristics (please also see corresponding EUBP press release further below). The study is accompanied by a stakeholder consultation and workshops that aim to define criteria for when a plastic product should preferentially be made from certified compostable plastics. EUBP has developed considerations on criteria as well as a set of example products made from compostable plastics.
In order to ensure that compostable plastics can deliver the optimal contribution to realising a circular economy in Europe, it is important to acknowledge that they are not a general solution but a specific technology for selected products
 that can foremost help to efficiently manage the biggest fraction of the municipal waste stream, i.e. bio-waste.
Plastic products should be produced from compostable plastics if the following criteria apply:
Contamination with food waste;
Likely to end up in the organic waste collection and unlikely to be effectively mechanically recycled in the plastic recycling stream;
Potential to reduce non-biodegradable plastics contamination of bio-waste collection;
No eficient re-design possible in order to move to reusable solutions.
These criteria clarify, that all applications need a differenti- ated consideration concerning their best recycling option.[2] The products covered by these criteria would, in addition, need to fulfil the criteria of EN 13432 for industrially compostable plastics (criteria regarding impact on bio-waste).
The criteria given above lead to the following list of example products:
Bio-waste bag
Very thin plastic bags / fruit and vegetable bags
Tea bags
Coffee capsule, coffee pads, coffee filters
Fruit stickers
Cling-film (and/in combination with) stickers/labels for fresh produce[3]
Paper towels (wet-strength paper)
Multi-material flexible packaging for perishable food
For the identified products that fulfil the four criteria, a step-
by-step switch from non-degradable plastic products, which contaminate bio-waste, to compostable plastic products is recommended. This needs to go hand in hand with stepping up separate waste collection and (mechanic and organic) recycling capacities across Europe – the latter being determined in EU waste and packaging legislation.
[1] This would consequently also lead to a reduction of microplastics in organic fertiliser and would reduce 
 the leakage of conventional plastics into soil across the EU.
[2] The EU Waste Framework Directive defines recycling as mechanical recycling and organic recycling. As municipal waste streams are interdependent, a sound separate collection is key. In order to achieving a circular economy, it's important to have an inclusive perspective on recycling.
[3] A cling film is often used for the placement of the fruit sticker and 
labels. Currently, it is either made of polyethylene or of polyvinylchloride, which can contaminate the organic waste stream. In addition, PVC also harms incineration and is rarely recycled mechanically. Due to its very good properties in shelf-life extension of fresh food (similar to PVC), avoidance of organic waste contamination and no harm to other waste streams, we consider cling lm to be a good example for recommendable replacement of conventional plastics with certi ed compostable alternatives.
[4] Only in closed-loop systems (provision of goods and waste management is guaranteed) if multi-use options are not feasible.
[5] Flexible, semi-rigid and rigid packaging: Most of the products for which the criteria are relevant are flexible packaging applications (additional flexible products not defined as packaging such as fruit stickers). In some cases of closed loop systems also compostable plastic catering items (semi-rigid) could increase waste management efficiency. The market for compostable rigid packaging is very limited to negligible, as rigid packaging will potentially develop into the "reuse, refund system etc." – direction.
Read the complete EUBP position paper including an interesting graphic here.