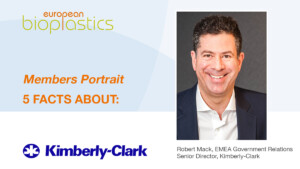 In each issue of the Bioplastics Newsletter, we present some facts about a member of European Bioplastics. This month, Robert Mack, EMEA Government Relations Senior Director of Kimberly-Clark, shares some interesting insights on his company. 
5 facts about Kimberly-Clark, United Kingdom 
Kimberly-Clark (NYSE: KMB) and its trusted brands are an indispensable part of life for people in more than 175 countries. Fueled by ingenuity, creativity, and an understanding of people's most essential needs, we create products that help individuals experience more of what's important to them. Our portfolio of brands, including Huggies, Kleenex, Scott, Kotex, Cottonelle, Poise, Depend, Andrex, Pull-Ups, GoodNites, Intimus, Neve, Plenitud, Sweety, Softex, Viva and WypAll, hold the No. 1 or No. 2 share position in 80 countries. We use sustainable practices that support a healthy planet, build stronger communities, and ensure our business thrives for decades to come.  

Kimberly-Clark's ambition is to be a leader in driving innovative solutions, which is supported by aggressive global actions to address the challenges associated with single-use plastics. By 2030, one of our goals is that 75% of the material in our products will be either biodegradable or will be recovered and recycled. We will also reduce our use of new, fossil fuel-based plastics by 50%, while 100% of our packaging will be reusable, recyclable or compostable by 2025.
Achieving this ambition will take game-changing innovation, and we're partnering with global NGOs, investors and leading innovators such as RWDC Industries to create this future. We are working jointly with RWDC to develop cost-effective biopolymer solutions, including a new source material made from renewable plant-based polyhydroxyalkanoates (PHA).

Kimberly-Clark

's partnership with RWDC will provide us with RWDC's 

polyhydroxyalkanoates (PHA)

 source material, SolonTM, to develop additional products that are marine degradable. We are working to launch products featuring this innovation over the next five years, focusing first on product categories that address global demand for more sustainable products. 

In 2020 in the UK, Kimberly-Clark launched Huggies® Pure plastic-free skin loving wipes made with 100% naturally derived fibres which have been validated to biodegrade via credible independent standard. In 2021, we are adding Huggies® Natural biodegradable to our portfolio in the UK, Western and Eastern Europe and Russia. This biodegradable and plastic-free baby wipe is made up of 100% naturally derived fibres and has a formulation which is made up of 99% pure water and is free from fragrance. Huggies research into skin health is recognised by the British Skin Foundation too.