One of the highlights of every European Bioplastics Conference is the Annual Global Bioplastics Award ceremony, presented by the international trade publication, bioplastics MAGAZINE. This year's winner will be announced during the 11th European Bioplastics Conference on 29 November 2016 in Berlin.
The Global Bioplastics Award recognises innovation, success, and achievement by manufacturers, processors, brand owners, or users of bioplastic materials. The following five products have been shortlisted for the 11th Global Bioplastics Award:
World's first polyester shirt made from 100% Bio-PET | Far Eastern New Century, Taiwan
Earlier this year, Far Eastern New Century Corp., based in Taiwan, presented the world's first 100% bio-based polyester shirt made entirely from renewable raw materials after launching the first 100% bio-based PET bottles for Coca-Cola in Milan Expo last year. The 100 % bio-polyester shirts not only realise carbon footprint reduction and environmental protection goals, but also retain all the properties and features of polyester shirts without sacrifying any functions which polyester should have.
Candybar wrapper made from (waste potato) starch-based film | Rodenburg and Mars, the Netherlands
In 2012, Mars and Rodenburg Biopolymers started to develop a new material to switch to bio-based packaging for their Mars and Snickers chocolate products. After four years of developing a new compound, running production trials, and conducting consumer feedback research, the resulting starch compound for the packaging material consists mainly of starch derived from potato cutting waste and PLA. Taghleef manufactures the film and Mondi prints the packaging.
New compostable particle foam | BASF, Germany
Made from BASF's biodegradable polyester ecoflex® and PLA, it is the first expandable, closed cell particle foam developed as a drop-in solution for Expandable Polystyrene (EPS) and Expanded Polypropylene (EPP) customers. By utilizing an innovative continuous extrusion process, ecovio EA polymer is charged with the blowing agent pentane to produce expandable beads that have a shelf-life of more than one year, without any quality impairment. The major benefits for the converter include lower transportation cost, longer storage time, less necessary storage space and, most importantly, its processability on existing standard machinery.
Root protection container for rubber trees | Corbion, Global Bio-Polymers, and Maxrich, the Netherlands, Thailand
The bioplastic container based on Corbion Purac's PLA and other biopolymers provides an alternative to the existing options of PE bag / PP cone. The bioplastic cone offers the benefits of directed root growth (promoting longer tree life and increasing economic value per tree) combined with biodegradability at end of life (no need to cut off the container, thus reducing the current root damage yield loss created during container removal when outplanting). The PLA is made from sugarcane grown locally in Thailand, making this a truly circular and local-for-local application.
Renewable and recyclable waster bottle | Treeson Spring Water, USA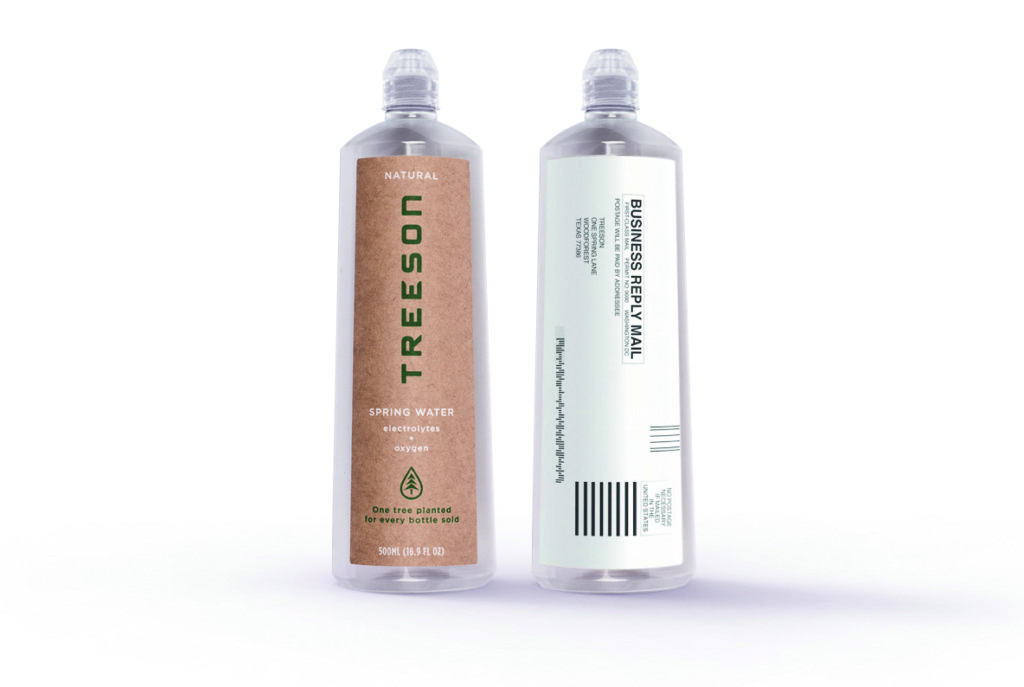 Treeson's philosophy is to take their bottles back via a mail-back return programme after finishing them and use those returned bottles to generate clean energy. The shape of the bottles allows it to naturally collapse flat when empty for easy mailing. Customers just have to drop the bottles in the mailbox after use and Treeson is taking care of it thereafter. The bottles are made of a PLA mixture that Carlton developed together with a manufacturer. It is 100 % toxin free and is certified free of any GMOs. The labels are made from 100 % post consumer recycled materials and are completely safe for the environment.
For more information on the nominees and the Global Bioplastics Award, visit bioplastics MAGAZINE.
You can still register to attend the 11th European Bioplastics Conference: The full speaker line-up for the two-day conference is available online. The agenda covers a wide range of important areas, including the EU policy landscape, the latest technological innovations in materials and conversion of bioplastics, advances in standardisation and labelling, bio-based feedstock, end-of-life solutions, as well as the consumer and brand perspective. Don't miss your chance to attend the leading business and networking platform of the bioplastics industry in Europe. You can still secure your place via the online registration.