Register now!
12th European Bioplastics
Conference

THE BIOPLASTICS CONFERENCE EXHIBITION
The exhibition is dedicated exclusively to bioplastics. It ́s the ideal platform for your company to demonstrate your products and services, increase brand awareness, build new business relationships and gain instant market feedback.
WHY BECOME AN EXHIBITOR?
The product exhibition at the European Bioplastics Conference is an unrivalled opportunity to showcase your products to potential partners and network with hundreds of like-minded peers: the conference includes visitors from the entire bioplastics value chain covering manufacturers, plastic converters, green chemistry, products, (industrial) end users, brand owners, research & consulting, as well as machinery & engineering.
HOW WE PROMOTE YOU
You will have great visibility throughout the event thanks to your branded exhibition space.
With plenty of networking sessions during the two-day event you can expect to have numerous one-on-one conversations with your peers.
We'll feature your company logo on the website, on conference materials handed out to all attendees, in conference-related mailings, and on some of our own branding.
In addition, your company profile will be up on the event website and linked up with your company's online presence
To find out more, simply download the EVENT BROCHURE (download link).
| Exhibition options | Association members | Non-members |
| --- | --- | --- |
| Premium exhibition package | 950 EUR* | 1,150 EUR* |
| Standard exhibition package | 800 EUR* | 900 EUR* |
*Prices stated are excluding 19% VAT. Please download the TERMS AND CONDITIONS (download link) here.
The exhibition fee does not include the delegate attending the stand.
Exhibitors at the 12th European Bioplastics Conference 2017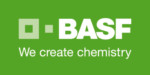 At BASF, we create chemistry – and have been doing so for 150 years. Our portfolio ranges from chemicals, plastics, performance products and crop protection products to oil and gas. As the world's leading chemical company, we combine economic success with environmental protection and social responsibility. Through science and innovation, we enable our customers in nearly every industry to meet the current and future needs of society. Our products and solutions contribute to conserving resources, ensuring nutrition and improving quality of life. We have summed up this contribution in our corporate purpose: We create chemistry for a sustainable future. BASF had sales of over 74 billion in 2014 and around 113,000 employees as of the end of the year. BASF shares are traded on the stock exchanges in Frankfurt (BAS), London (BFA) and Zurich (AN). More information at www.basf.com.
Biofibre GmbH is a 100% subsidiary of LWB Steinl GmbH & Co KG, a leading manufacturer of machines and systems for the rubber processing industry. We develop, produce and sell natural fiber reinforced bio plastics based on a protected production process for thermoplastic processing into molded articles with a focus on injection molding.
The material consists of a matrix of biopolymers and natural fibers. The natural fiber is combined with the matrix component and necessary additives in the manufacturing. Sustainability is defined amongst other things through the use of recycled material as an eco-efficient raw material without using fossil fuels. Biofibre®, our bioplastics compound, can be further processed to final products using standard process technology in order to secure our customers' investments. Biofibre® represents an attractive offer for the sustainable manufacturing industry and helps to avoid plastic waste. More information at www.biofibre.de.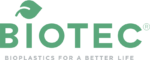 BIOTEC is one of the world-wide leading companies in producing starch based compounds. Established 1992 and located in Emmerich am Rhein (Germany) BIOTEC is developing and producing biodegradable and compostable materials, called BIOPLAST, by using potato starch as the main renewable resource.
BIOTEC's customers, who are making mainly shopper bags, refuse bags or fruit & vegetable bags out of BIOPLAST prefer the excellent extrusion behavior, the high mechanical properties and absence of disturbing smell of the compound. Over the last years the various regulations implemented by the EU and single member states have brought a long list of increasing requirements for bags regarding composting properties and renewable content. BIOTEC has developed a range of products called BIOPLAST 300, BIOPLAST 400 and BIOPLAST 500. These bioplastics are plasticizer-free, thermoplastic materials that contain natural potato starch and other biologically sourced polymers. All products are certified as OK Compost and OK Compost HOME by Vinçotte. The bio-based carbon share is of 30%, 40% and 50% respectively, confirmed by Beta Analytics. All products made from BIOPLAST are 100% biodegradable and compostable according to EN 13432 standard. BIOPLAST 300, BIOPLAST 400 and BIOPLAST 500 are suitable for processing by blown film extrusion to produce items that are completely biodegradable. The absence of plasticizer allows the material to be easily processed to stable products of consistent quality. BIOTEC is providing a wide range of solutions to bags makers to fulfill the highest requirements e.g. the bio-waste directive for refuse bags in Germany or the bag legislation for fruit & vegetable bags in France. More information at www.biotec.de.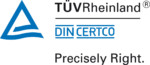 DIN CERTCO is the certification organisation of TÜV Rheinland Group and DIN, the German Institute for Standardization. Standards are indispensable instruments in ensuring safety technology, in protecting health, the environment, and customer interests, generally. DIN CERTCO assess and registers a broad range of products and services, and certifies qualified enterprises and personnel. Certification or registration enables companies to document conformance to specified requirements and thus assist consumers in choosing the right product or service to meet their needs, demonstrating quality, safety efficiency and reliability of their products. More information at www.dincertco.de/en.
ECHO Instruments is a manufacturer of high-quality, innovative instruments, software, and integrated sensors measuring systems for more than 20 years. We are offering products and technical support & solutions for customers in the fields of biotechnology, biology, medicine, bioplastic production, and environmental management.
Our Respirometry System was launched under the ECHO Instruments brand on the global market. It is specially designed for the monitoring of plastic biodegradability according to the ISO 14855 / ASTM D5338 standard. ISO 14855 specifies a method for determining the ultimate aerobic biodegradability of plastic materials under controlled composting conditions by gravimetric measurement of the amount of carbon dioxide evolved. In 2016, we will launch a completely new marine environment respirometer for monitoring the biodegradability of different types of waste, for example plastic particles and organic components, in the marine environment (algae growth under simulated environment conditions). More information at http://echoinstruments.eu/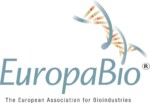 EuropaBio, the European Association for Bioindustries, promotes an innovative and dynamic European biotechnology industry. EuropaBio and its members are committed to the socially responsible use of biotechnology to improve quality of life, to prevent, diagnose, treat and cure diseases, to improve the quality and quantity of food and feedstuffs and to move towards a biobased and zero-waste economy. EuropaBio represents 79 corporate and associate members and bio-regions, and 17 national biotechnology associations in turn representing over 1800 biotech SMEs. More information at www.europabio.org.
As a leading producer of customized bioplastics, FKuR offers a broad range of bio-based and biodegradable resins for a variety of durable and flexible applications. FKuR's bioplastics have been tested according to recognized national and international standards and are certified by independent institutes. Customers can benefit from a variety of compounds, from our global distribution program as well as our development partnerships.
FKuR's compounds include: Bio-Flex for flexible applications, Biograde for rigid applications, Fibrolon (Wood Plastic Composites), and Terralene, a bio-based Polyethylene for durable applications. Our global distribution program includes the following bio-based resins: I'm Green PE (Braskem), Globio Bio-PET (Toyota Tsusho), and Vestamid Terra Bio-PA (Evonik). FKuR partners with Fraunhofer UMSICHT for Strategic R&D, and with Corbion on High Heat PLA. As the Bioplastics Specialist FKuR thinks internationally but acts locally, with global partner offices in each region. Whether customers are interested in mutual development, product marketing or exclusive distribution of bioplastic products, FKuR is your partner. More information at www.fkur.com.
Global Biopolymers Co.,Ltd. (GBP) manufactures bioplastics products from PLA, PBS, PBAT, Bio-PE. The company is located in Rayong, Thailand where both PLA and PBS factories are located. GBP's business include manufacturing and exporting of compounds that use PLA, PBS, PBAT as the raw materials. GBP supplies compounds to downstream plastics converters. Standard compounds are available for injection molding, sheet extrusion for thermoforming, blown film and blow molding. GBP can also do custom compounding for special products. The current compounding capacity is 6,000 tons per annum.
GBP has own research and development that produce new compounds of bioplastics and agricultural materials, such as tapioca starch, natural rubber, cellulose materials. These agricultural compounds increase the biobased content and reduce the high costs of bioplastics resins. Because of the advantage of being near to the PLA,PBS factories, GBP with downstream converters can supply more economical bioplastics products to brand owners. Please visit our website: www.globalbiopolymers.com
Established in Johor Malaysia in 2005, Indochine Bio Plastiques (ICBP) Sdn Bhd a "Pioneer Status" company, manufactures biodegradable, bio-based and compostable plastic resins from tapioca starch. ICBP is the only HALAL, USDA, SGS, REACH, SVHC, and US FDA certified bio plastic resin manufacturer in Asia. Currently, ICBP Bio Resin are used as a supplement to conventional petroleum plastics, however with the increase in environmental awareness and to reduce dependence on fossil fuels, bio plastic resins has entered into prominence as a replacement product, capitalizing on "Certified Green Technology" and environmental benefits. ICBP holds a manufacturing license from Ministry of International Trade and Industry (MITI); was granted Pioneer Status from Malaysian Industry Development Authority (MIDA). ICBP was also granted a Green Technology Certificate from the Ministry of Energy, Green Technology and Water (KETTHA); a Halal Certification from the JAKIM (National Department of Islamic Development), Malaysia. More information at www.icbp.com.my.
The expertise of the Institut für Kunststofftechnik (IKT – Institute for Plastics Engineering) comprises the entire field of plastics technology, including material engineering, processing technology (mechanical and process engineering), and construction/product engineering. IKT works with biopolymers as well as bioplastics in many different projects with international companies in order to develop special compounds for specific applications and requirements as well as universally valid solutions. More than 150 engineers, chemists, physicists and students are working in the research and testing laboratories and pilot processing plants, stretching over a 5,000 sqm area at University of Stuttgart. More information at www.ikt.uni-stuttgart.de.
Applied research for your needs: We offer our unique understanding to support your business. From feedstock to product, from markets to dissemination – nova-Institute links research-based consultancy to feedstocks, technology, products and markets as well as policy, economy and sustainability in all areas of the Bio-based and CO2-based Economy. We make your business fit for the future! More information at http://nova-institute.eu.
We offer more than two decades of experience with the use of biobased materials and products. You get access to nova's internal or external top experts and scientists. We have many fruitful partnerships in various national and international associations, research projects and expert groups at your command. We offer several popular platforms for knowledge exchange and communication – a key to success for the Bio- and CO2-based Economy. We host some of the most successful conferences of the industry – made by experts for experts.
OWS is a private company under Belgian law, constituted in 1988. OWS is specialized in biological treatment of solid and semi-solid organic substrates by means of anaerobic digestion and has so far designed and built 30+ large-scale anaerobic digestion plants on a worldwide scale. In addition, OWS has also 25+ years of experience in the field of biodegradability and compostability testing and has since tested 2500+ materials for 750+ clients all over the world, including BASF, Biotec, Corbion, Duni, FKuR, Huhtamaki, Innovia, Kimberly-Clark, Lavazza, Limagrain, Mitsubishi Chemical, NatureWorks, Nestlé, Novamont, P&G, Showa Denko, Stora Enso, Sun Chemical, Tetra Pak, Unilever, UPM, Wacker and many more. All testing is performed under conditions of strict quality control and confidentiality and with an independent and objective scientific approach. Materials tested include polymers, paper & board, packaging, consumer goods, food service ware, films & bags, inks, additives, adhesive, etc. With an ISO 17025 accreditation at hand, OWS is the only laboratory worldwide which is recognized by all certification bodies active in the field of biodegradability and compostability, i.e. Vinçotte and DIN CERTCO in Europe, BPI in the US, JBPA in Japan, ABA in Australia, etc. More information at www.ows.be.

PTTMCC is a strategic joint venture between PTT Global Chemical Public Company Limited (PTTGC) and Mitsubishi Chemical Corporation (MCC) with the intention to focusing solely on the bio-chemical industry and creating products of benefit to mankind and to build a greener world. Consequently, PTTMCC is determined to produce bio-chemical products that will initiate changes for a better future. We have launched our first project with the Polybutylene Succinate (PBS) Plant in Thailand, which is also the first biggest bio-based PBS plant in the world. BioPBS (bio-based polybutylene succinate) is revolutionary in its two-fold bio properties. It is both bio-based and biodegradable plastic, using advanced technology from Mitsubishi Chemical Corporation. Derived from natural resources, such as sugarcane, cassava and corn, BioPBS is compostable without composting facility into biomass, carbon dioxide and water. Environmentally friendly, food contact approved, excellent heat sealability, heat resistance up 100°C and runs well with LDPE machine while retaining the same material quality and machine processing speed as conventional materials. BioPBS improves the quality of your product while causing no harm to the environment. BioPBS is the long awaited ideal material for paper coated, barrier packaging, Coffee capsule, Fiber, and injection molding application, etc. More information at www.pttmcc.com.
Sustainable Materials Expo is Europe's only free-to-attend, commercially focused exhibition and conference that connects the sustainable materials manufacturing community with a wide range of end-user market buyers. The exhibition crucially brings together the full sustainable materials manufacturing supply chain, from raw material suppliers to end users. Industry sectors include automotive, aerospace, packaging, electronics, medical and energy.
With increasing end-use demand for more sustainable products, numerous opportunities are emerging to address the needs of a growing industry involved in the production, processing and provision of sustainable materials. Sustainable Materials Expo takes place in Hannover from the 16th to 18th of October 2018.
More information at: www.sustainablematerialsexpo.com.
thinkstep enables organizations worldwide to succeed sustainably. Our industry-leading sustainability software, data and consulting services help businesses drive operational excellence, product innovation, brand value and regulatory compliance. Our unique combination of corporate, product and supply chain software is complemented with thinkstep professional consulting services to make sure you capture the full business value of sustainability. With a global presence in 19 countries we serve more than 2,000 companies, including 40 percent of the Fortune 500 such as BASF, Hewlett-Packard, Interface, Renault, Siemens and Unilever. More information at www.thinkstep.com.

Total Corbion PLA is a global technology leader in Poly Lactic Acid (PLA) and lactide monomers. PLA is a biobased and biodegradable polymer made from annually renewable resources, offering a reduced carbon footprint versus many traditional plastics. The Luminy® PLA portfolio, which includes both high heat and standard PLA grades, is an innovative material that is used in a wide range of markets from packaging to consumer goods, fibers and automotive. Total Corbion PLA, headquartered in the Netherlands, will start up a new production plant in Thailand in the second half of 2018. The company is a 50/50 joint venture between Total and Corbion. More information at www.total-corbion.com.
Sukano is a world leader in the development and production of additive and colour masterbatches and compounds for polyester and specialty resins. The company is driven by expertise – Sukano focuses its technical knowledge on developing innovative products and services for oil and bio-based polymers that can be used for applications such as thin and thick films, bottles and containers, fibers, filaments, and sheets.
Founded in 1988, Sukano developed the state-of-the-art, market reference slip/antiblock additive masterbatch for PET film and sheet applications. Headquartered in Switzerland, it is a family-owned business with a global distribution network and three production facilities strategically located in Europe, the Americas and Asia.
Providing unparalleled service, knowhow, and quality to its customers worldwide, Sukano is the global partner of choice for plastic converters and brand owners to develop their innovative products and highly specialized solutions.
More informatoin at www.sukano.com.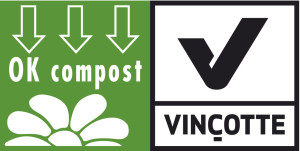 Vinçotte is an independent Belgian organization, established in 1872. Vinçotte employs worldwide (in 13 establishments on five continents) more than 2000 people including about 1600 engineers and technicians. Vinçotte has EN 45011 accreditation and is a notified body for a large variety of European Directives. Complete independence and neutrality is included in Vinçotte's mission. Vinçotte makes, with all of its expertise, the reputation of its clients to its own responsibility.
Vinçotte is world leader and pioneer in the certification of compostable and biobased products. This year Vinçotte celebrates the 20th anniversary of the worldwide known conformity mark for compostable products: OK compost (since 1995). Since April 2012 Vinçotte is recognized as certification body for the Seedling mark of European Bioplastics. Other certification marks of Vinçotte are: OK biodegradable MARINE (since 2015), OK biobased (since 2009), OK biodegradable WATER (since 2005), OK compost HOME (since2003) and OK biodegradable SOIL (since 2000). More information at www.vincotte.com.
Exhibitors at the 11th European Bioplastics Conference 2016:
API, BASF, bioplastics MAGAZINE, BIOTEC GmbH & Co. KG, Carbiolice, Corbion, DIN CERTCO, ECHO, EuropaBio, FKuR, Futamura, IfBB, ifeu, Institut für Kunststofftechnik (Universität Stuttgart), NatureWorks, Novamont, OWS, Perstorp, Photanol BV, PTT MCC Biochem, Vinçotte.