We are offering different kinds of sponsorship options so that you can engage even more with our event. If you would like to upgrade your visibility at our conference, please have a look at the sponsoring options and get in touch with our Event Manager Denise Valdix. She will be happy to find the right package for you.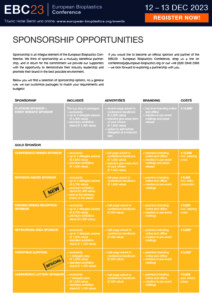 Our partners and sponsors
Our gold sponsors 2023:
The Biotec story stretches back nearly three decades to humble beginnings. Today we are a world leader in fully biodegradable and compostable materials
and we continue to grow, develop, and pioneer new paths for bio-based and compostable applications.
We develop and produce sustainable biopolymer compounds made from plant-based renewable resources with a broad variety of properties, such as processability, durability, end-of-life options and characteristics developed for specific regions and markets.
Our GMO-free and plasticiser-free products return to their source to complete the natural life cycle that ends where it begins.  A broad range of environmental and industrial standards ensure that customers and consumers can count on consistency and quality.
Finding the best solution for both our customers and

the

environment is at the core of our activities and is driving our efforts. More information at www.biotec.de
The FKuR group is a medium-sized, privately held group of companies focusing on the development, production and marketing of high-quality special compounds and the distribution of plastic specialties.
The group currently includes FKuR Kunststoff GmbH, one of the leading suppliers of bioplastics compounds and recyclates for flexible packaging solutions and engineering applications, and FKuR Polymers GmbH, specializing in the development and production of TPE and PP / PE compounds.
The product portfolio of the FKuR group comprises the FKuR Kunststoff GmbH product groups marketed as Bio-Flex®, Biograde®, Ceroflex®, Fibrolon®, Terralene®, Terraprene®, Terrasol® as well as the FKuR Polymers brands Macoprene®, Macolen® PE and Macolen® PP. The distribution business comprises the biobased PE 'I'm green™' of Braskem, the biobased PET Eastlon of the FENC group as well as high-quality recyclates of KASKADA ltd. More information at fkur.com
Neste (NESTE, Nasdaq Helsinki) creates solutions for combating climate change and accelerating a shift to a circular economy. We refine waste, residues and innovative raw materials into renewable fuels and sustainable feedstock for plastics and other materials. We are the world's leading producer of sustainable aviation fuel and renewable diesel and developing chemical recycling to combat the plastic waste challenge. We aim at helping customers to reduce their greenhouse gas emissions with our renewable and circular solutions by at least 20 million tons annually by 2030. Our ambition is to make the Porvoo oil refinery in Finland the most sustainable refinery in Europe by 2030. We are introducing renewable and recycled raw materials such as liquefied waste plastic as refinery raw materials. We have committed to reaching carbon-neutral production by 2035, and we will reduce the carbon emission intensity of sold products by 50% by 2040. We also have set high standards for biodiversity, human rights and supply chain. We have consistently been included in the Dow Jones Sustainability Indices and the Global 100 list of the world's most sustainable companies. In 2021, Neste's revenue stood at EUR 15.1 billion. Read more: neste.com
Our silver sponsors 2023:

Founded in 2022, in Newark, Delaware, Covation Biomaterials is a leading global innovator offering a product portfolio of high-performance, sustainable solutions. The company builds on its rich DuPont legacy of groundbreaking scientific innovation and continues to deliver novel solutions at scale across multiple industries, including apparel, carpeting, footware, cosmetics, food and packaging. Through product lines such as Sorona®, Susterra® and Zemea®, the mission of Covation Biomaterials is to deliver the sustainable building blocks that will enable customers to provide bio-based products accessible to everyone.
CovationBio produces 1,3 propanediol, from a renewable, sustainable and responsibly managed industrial dent corn feed stock. Products are marketed under the brands: Susterra® propanediol and Zemea® propanediol. This material is also used to produce Sorona® polymer for apparel and carpet applications.

NatureWorks is an advanced materials company offering a broad portfolio of biopolymers and biochemicals made from renewable resources. With performance and economics that compete with oil-based materials, naturally advanced Ingeo™ biomaterials are valued for their unique functional properties and used in products from coffee capsules and appliances to tea bags and 3D printing filament. NatureWorks is jointly owned by Thailand's largest ASEAN leading integrated petrochemical and refining company, GC, and Cargill, which provides food, agriculture, financial and industrial products and services to the world. For more information visit natureworksllc.com or follow NatureWorks on Twitter at @natureworks.
Sulzer is a global leader in fluid engineering and chemical processing applications. We specialize in energy-efficient pumping, agitation, mixing, separation, purification, crystallization and polymerization technologies for fluids of all types. Our solutions enable carbon emission reductions, development of polymers from biological sources, recycling of plastic waste and textiles, and efficient power storage. Our customers benefit from our commitment to innovation, performance and quality through our responsive network of 180 world-class manufacturing facilities and service centres across the globe. Sulzer has been headquartered in Winterthur, Switzerland, since 1834. In 2022, our 12'900 employees delivered revenues of CHF 3.2 billion. Our shares are traded on the SIX Swiss Exchange (SIX: SUN).  www.sulzer.com
The Chemtech division is the global market leader in innovative mass transfer, static mixing and polymer solutions for chemicals, petrochemicals, refining and LNG. We are steering the way in ecological solutions such as bio-based chemicals, polymers and fuels, recycling technologies for textiles and plastic as well as carbon capture and utilization/storage, contributing to a circular and sustainable economy. Our product offering ranges from process components to complete process plants and technology licensing. 

Zhongke Guosheng (Hangzhou) Technology Co., Ltd was funded in 2021, with it's headquarters in Hangzhou city, Zhejiang Province, China, specialized in the design and development of bio-based furan new materials. The core team of the company has more than 20 years' industrialization experience in biomass catalytic conversion and furan-based material design and development.
Guosheng Tech has originally invented continuous production process of HMF and has already achieved thousand ton scale industrial production, compare to the traditional batch agitator kettle craft, our newly invented technology has higher production efficiency, higher scale, lower production cost and more stable and reliable product quality.
Up till now Guosheng Tech. has gone through the entire technology chain from HMF to downstream derivative monomers and end products, and serial of production lines have been set up, including 5-HMF, FDCA, BAMF and PEF, which are widely used in the field of polymer materials, pharmaceutical intermediates, and fine chemicals.
Our bronze sponsors 2023:
Sukano is a global specialist in the development and production of additive and color masterbatches and compounds for polyesters, biopolymers, and specialty resins. The company is driven by expertise and devotes its technical knowledge to developing innovative products and highly specialized solutions that go into Packaging, Durable Goods, Building and Construction, Healthcare and Textile markets. The company is a family-owned business headquartered in Switzerland, with additional manufacturing facilities strategically located in the USA and Malaysia. Sukano is able to leverage its global knowledge base to provide outstanding local support, creating additional value for customers through flexibility, reliability, technical expertise and agility. For more information, visit www.sukano.com

WACKER is a global chemical company with some 15,700 employees and annual sales of around €8.21 billion (2022). We support customers with a global network of 27 production sites, 26 technical competence centers and 50 sales offices. With more than 3,200 products supplied in over 100 countries, we make a vital contribution to improving the quality of life around the world.
As a committed partner to the plastics industry, WACKER's VINNEX® product range helps to unleash the potential of biodegradable plastics. In this way they can be processed like standard thermoplastics on conventional plastic-processing machinery, while the mechanical properties are sufficiently improved.
VINNEX® and VINNEX® eco additives act as compatibilizers for various biopolyesters and fillers, improving the flexibility, softness, and impact strength of the final material, as well as its processing properties.
The products can lower the viscosity of the melt and increase the melt strength at the same time. And with the new preblended versions, they can be even easier integrated into the production process at the customer site. For more information, visit www.wacker.com