Attendees
CONFERENCE ATTENDEES: WHO HAS BEEN AT THE CONFERENCE 2018?
Each year, over 300 experts from around the globe come together and impressively demonstrate the conference's tremendous effectiveness in information exchange and networking. The conference is the ideal platform to build new business relationship and to reach industry decision makers along the entire value chain of bioplastics.
As the major industry association in this field, the hosts at European Bioplastics are committed to representing the interests of stakeholders along the entire value chain. The diversity of the delegation reflects that, and the trend towards a pan-industry gathering is set to continue as the event embraces the inclusion of political and other non-private sector actors. It is also noteworthy that an increasing number of exciting brands are participating.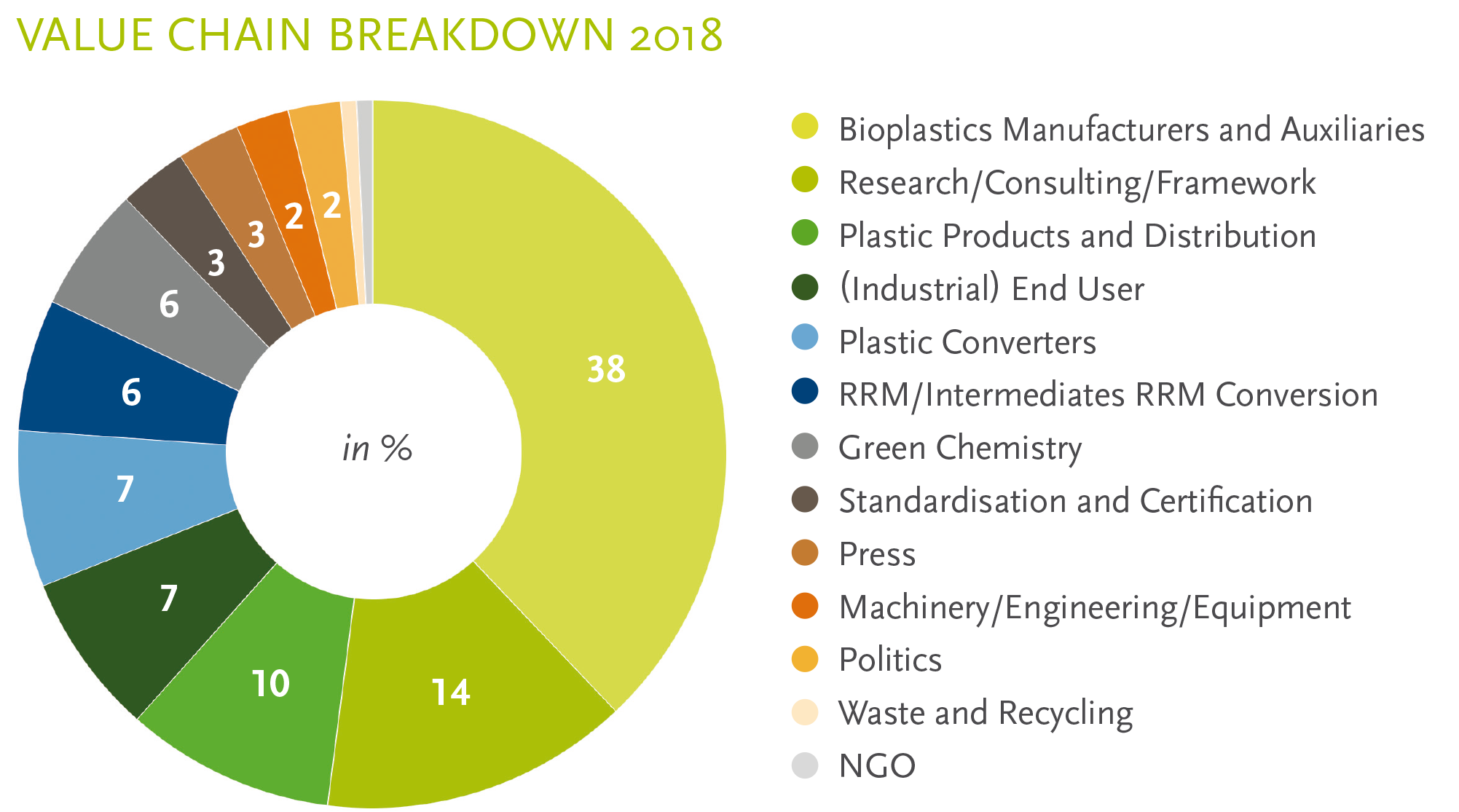 The registered companies at the 13th European Bioplastics Conference 2018 were:
| | |
| --- | --- |
| Company | Country |
| 3PLW Ltd | Israel |
| ADBIOCOMPOSITES | Spain |
| adidas AG | Germany |
| AGRANA | Austria |
| AIMPLAS | Spain |
| ALCANTARA | Italy |
| Alfred Kärcher SE & Co. KG | Germany |
| ANDROS | France |
| Anellotech Inc. | USA |
| Arctic Biomaterials Oy | Finland |
| Austrian Compost & Biogas Association | Austria |
| Avantuim | Netherlands |
| Balsane – Sustainable Products | Luxembourg |
| Bangchak Corporation | Thailand |
| BASF | Germany |
| Belgian BioPackaging vzw/asbl | Belgium |
| Bericap GmbH | Germany |
| Berlin Partner for Business and Technology | Germany |
| BFG Packaging SRL | Romania |
| Bio Futura | Germany |
| Bio-based Industries Joint Undertaking | Belgium |
| BIO-FED Branch of AKRO-PLASTIC GmbH | Germany |
| Bio4Pack GmbH | Germany |
| BIOAGRA S.A. | Poland |
| Biofibre Tech Sweden AB | Sweden |
| biolivenergy | Turkey |
| BiologiQ, Inc. | USA |
| BioPlasTec.com | India |
| bioplasticsMagazine | Germany |
| Bioplastics News | Belgium |
| BIOTEC | Germany |
| BO Sens | Switzerland |
| BU Chemistry | Germany |
| C.A.R.M.E.N.e.V. | Germany |
| Carbiolice | France |
| Cargill | Monaco |
| CEDAP | France |
| CENER (National Renewable Energy Centre of Spain) | Spain |
| CETEC (Plastics and Footwear Technology Center) | Spain |
| CLIMICALS | Canada |
| CLIMICALS | France |
| Club Bio-plastiques | France |
| Cofresco Frischhalteprodukte GmbH & Co. KG | Germany |
| Coral Sea Garment | Canada |
| Corbion | Netherlands |
| Covestro Deutschland AG | Germany |
| CS Marketing Co. Ltd | Hong Kong |
| Dai Nippon printing Co., Ltd. | Japan |
| DANONE (Alpro) | Belgium |
| Danone Research & Innovation | France |
| DANONE Waters | Belgium |
| Department for Business, Energy and Industrial Strategy | United Kingdom |
| deSter | Belgium |
| DGP Intelsius Ltd. | United Kingdom |
| DIN CERTCO Gesellschaft für Konformitätsbewertung mbH | Germany |
| Dr. Babor GmbH & Co. KG | Germany |
| DTU Biosustain | Denmark |
| DuPont Tate & Lyle | Germany |
| Eastman Chemical Germany Management GmbH & Co KG | Germany |
| ECHO d.o.o. | Slovenia |
| ecoplus Kunststoff-Cluster | Austria |
| ECOREP Kft. | Hungary |
| ECOS | Belgium |
| Edana | Belgium |
| Elopak | Norway |
| EREMA Group GmbH | Austria |
| Eskisehir Osmangazi University | Turkey |
| Essity Hygiene and Health AB | Sweden |
| ETH Zürich | Switzerland |
| EuropaBio | Belgium |
| European Bioplastics | Germany |
| European Commission (Eco-Innovation unit, DG Research & Innovation) | Belgium |
| European Commission Joint Research Centre | Belgium |
| EUWID Europäischer Wirtschaftsdienst GmbH | Germany |
| Ferrero, Soremartec | Luxemburg |
| Fiiish | France |
| FKuR Kunststoff GmbH | Germany |
| FLO SPA | Italy |
| FLOGAZ A.S. | Turkey |
| Florida Bebidas S.A. | Costa Rica |
| Florida Ice and a Farm Company S.A | Croatia |
| Food Packaging Forum Foundation | Switzerland |
| FORTIS X | South Africa |
| forum Nachhaltig Wirtschaften | Denmark |
| Fraunhofer Institute for Organic Electronics, Electron Beam and Plasma Technolog | Germany |
| Fraunhofer Umsicht | Germany |
| Friends of the Earth Europe | Belgium |
| Futamura UK | United Kingdom |
| Futerro SA | Belgium |
| Genomatica | USA |
| GC Innovation America | USA |
| German Coffee Association | Germany |
| GEROSA | Italy |
| Global Green Chemicals Public Company Limited | Thailand |
| GR PLAST | France |
| Green Serendipity | Netherlands |
| Greensan Limited | Italy |
| GSI Europe Import+Export GmbH | Germany |
| HANDICARE STAIRLIFTS B.V. | Netherlands |
| HEXPOL TPE GmbH | Germany |
| HiPP Werk Goerg Hipp OHG | Germany |
| Hochland Deutschland GmbH | Germany |
| Hochschule Hannover / Institute for Bioplastics and Biocomposites (IfBB) | Germany |
| HOLOSTIK INDIA LIMITED | India |
| HYDRA Marine Sciences | Italy |
| ICIS | United Kingdom |
| ICL Specialty Fertilizers | Netherlands |
| IIC AG | Germany |
| IKT – Institut für Kunststofftechnik | Germany |
| IMCD | Finland |
| IMT Mines Alès | Germany |
| Indevco Group | Lebanon |
| Indochine Bio Plastiques (ICBP) Sdn. Bhd. | Malaysia |
| Industrial Technology Research Institute | Taiwan |
| Industrial Technology Research Institute/ Industrial Economice and Knowledge Cen | Taiwan |
| INEOS Styrolution Group GmbH | Germany |
| Institute for Bioplastics and Biocomposites (IfBB) | Germany |
| Institute of Nuclear Energy Research/Chemistry Division | Taiwan |
| INSTM – UNIVERSITY OF PISA | Italy |
| interpack PROCESSES AND PACKAGING | Germany |
| INTRAPLAS SA | Portugal |
| IRPC Public Company Limited | Thailand |
| itene | Spain |
| Japan BioPlastics Association | Japan |
| JETRO Wien | Austria |
| J.Rettenmaier & Söhne GmbH & Co.KG | Germany |
| Jacobs Douwe Egberts | Netherlands |
| Jindan Europe BV | Netherlands |
| Jindan New Biomaterials Co., Ltd | China |
| Kaneka Belgium | Belgium |
| KOMPUESTOS | Spain |
| Kuraray India Pvt Ltd | India |
| KURARAY INDIA PVT LTD | Germany |
| LEGO Group | Denmark |
| Leibniz Institute for Agricultural Engineering and Bioeconomy (ATB) | Germany |
| Leibniz Universität Hannover | Germany |
| Leopold-Franzens-Universität Innsbruck | Austria |
| Lisa Dräxlmaier GmbH | Germany |
| Luxottica Srl | Italy |
| LvCheng Bio-materials | China |
| Mack Brooks Exhibitions | United Kingdom |
| MAM Babyartikel GmbH | Austria |
| Michigan State University | USA |
| Microtec SRL | Italy |
| Mitsubishi Chemical | Germany |
| Mitsubishi Chemical Corporation (MCC) | Thailand |
| Mitsubishi shoji packaging corporation | Japan |
| Mitsui & Co. | Germany |
| Mizuho Banku | Japan |
| narocon Innovationsberatung | Germany |
| Natur-Tec | United States |
| Naturejoy Global Pvt. Ltd. | India |
| NatureWorksLLC | USA |
| Naturworld Spa | Italy |
| NEN | Netherlands Standardization Institute | Netherlands |
| Neste (Suisse) SA | Switzerland |
| Neste Corporation | Finland |
| Nestlé | Switzerland |
| Nestlé Development Center Lisieux | France |
| Nestlé Research | Switzerland |
| NHL Stenden University of Applied Sciences | Netherlands |
| Nippon Gohsei Europe | Germany |
| nord emballage | Sweden |
| Norfolier GreenTec AS | Norway |
| Nouryon | Netherlands |
| Nova-Institut GmbH | Germany |
| Novamont Deutschland GmbH | Germany |
| Novamont France | France |
| Novamont S.p.A. | Italy |
| Novo Nordisk A/S | Denmark |
| NSR AB | Sweden |
| NUREL | Spain |
| Oeko Bioplasticos | Brazil |
| Omya International AG | Switzerland |
| Orkla Care AB | Sweden |
| Oskar Lehmann GmbH & Co. KG | Germany |
| OWS | Belgium |
| Pack4Food | Belgium |
| Packaging Europe | United Kingdom |
| Packflex Business Advisory Services LLP (B C Jindal Group), JINDAL | India |
| Papstar GmbH | Germany |
| PARSA Haar- und Modeartikel GmbH | Germany |
| Parsons School of Design | USA |
| Patagonia | USA |
| Perstorp AB | Sweden |
| Pietercil | Belgium |
| Plastics in Packaging | United Kingdom |
| Plastics News Europe | United States |
| PlasticsEurope | Germany |
| Platon Solutions GmbH | Germany |
| PM & Partner Marketing Consulting GmbH | Germany |
| POLIFILM EXTRUSION GmbH | Germany |
| Polybioskin | Germany |
| Polymer-Holding GmbH | Germany |
| Polytrade Global GmbH | Germany |
| Pöyry Management Consulting Oy | Finland |
| Profectus Films GmbH | Germany |
| PTT Global Chemical Public | Thailand |
| PTT MCC Biochem | Thailand |
| Rajshree Sugars & Chemicals Limited | India |
| Renolit | Netherlands |
| Reverdia | Netherlands |
| Rhodia Acetow GmbH | Germany |
| Röchling Maywo GmbH | Germany |
| Root | United Kingdom |
| Roquette | France |
| Roundtable on Sustainable Biomaterials (RSB) | United Kingdom |
| SAES Coated Films | Italy |
| Safic-Alcan Deutschland GmbH | Germany |
| Saipem S.p.A. | Italy |
| Senco R&D GmbH & Co KG | Austria |
| Shoaib Azhar | Sweden |
| SIBUR LLC | Russia |
| SITS.P.A. | San Marino |
| SLEEVER TECHNOLOGIES | France |
| Sojitz Europe plc | Italy |
| SPhere S.A. | Germany |
| SRF Limited | India |
| Stora Enso | Sweden |
| Sukano AG | Switzerland |
| Sulzer | Switzerland |
| Sulzer Chemtech GmbH | Germany |
| Swedish Standards Institute | Sweden |
| Synbra Technology bv | Netherlands |
| SZU KOREA | Republic of Korea |
| Taghleef Industries | Italy |
| Tama | Israel |
| Technical University of Liberec | Czech Republic |
| TechnipFMC | Italy |
| Technip Zimmer GmbH | Germany |
| Technische Universität Berlin | Germany |
| TECNARO GmbH | Germany |
| Tecnon OrbiChem | United Kingdom |
| Tetra Pak Packaging Solutions AB | Sweden |
| The Procter & Gamble Co | USA |
| The Swatch Group R&D Ltd | Switzerland |
| thinkstep AG | Germany |
| TIPA | Israel |
| TOTAL | France |
| Total Corbion PLA | Netherlands |
| Total Corbion | Netherlands |
| Townsend Solutions | United States |
| TOYOBO | Japan |
| TÜV AUSTRIA Belgium | Belgium |
| Unitika Ltd. | Germany |
| University of Bologna | Italy |
| University of Naples | Italy |
| University of Novi Sad | Serbia |
| University of Novi Sad | Serbia |
| UPM Biofuels | Finland |
| UPM GmbH | Germany |
| Van der Windt Verpakking BV | Netherlands |
| VanBerkel Consultancy BVBA | Belgium |
| Vegeplast | France |
| Verbund Kompostierbare Produkte e.V. | Germany |
| Virutex Ilko S.A. | Chile |
| VTT Chemical Process Technologies | Finland |
| VTT Technical Research Centre of Finland Ltd | Finland |
| Wacker Chemie AG | Germany |
| Wageningen Food en Biobased Research | Netherlands |
| Wentus Kunststoff GmbH | Germany |
| Wootton Packaging Services | USA |
| WWF South Africa | South Africa |
| Zhejiang Hisun Biomaterials Co.,Ltd. | China |