Attendees
Each year, over 400 experts from around the globe come together and impressively demonstrate the conference's tremendous effectiveness in information exchange and networking. The conference is the ideal platform to build new business relationship and to reach industry decision makers along the entire value chain of bioplastics.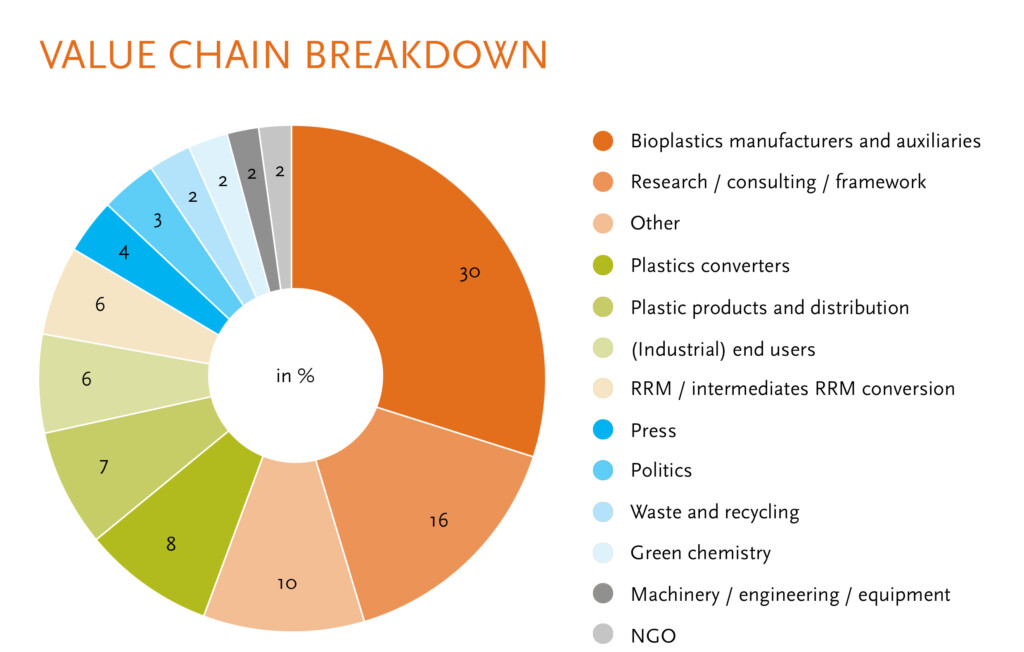 As the major industry association in this field, the hosts at European Bioplastics are committed to representing the interests of stakeholders along the entire value chain. The diversity of the delegation reflects that, and the trend towards a pan-industry gathering is set to continue as the event embraces the inclusion of political and other non-private sector actors. It is also noteworthy that an increasing number of exciting brands are participating.
Register now and be part of the 16th European Bioplastics Conference!
Registered companies and organisations 2021
ABM Composite
Agfa Gevaert nv
AGRANA Stärke GmbH
AIMPLAS
AINIA
Alberta's Industrial Heartland Association
Alma Mater Studiorum-Università di Bologna
Alpla Werke Alwin Lehner GmbH & Co KG
Aplix
Aptar Group
Arctic Biomaterials Oy
Arkema France
Bakoma
BASF SE
BBI JU
Be NaturaL N.V.
Beiersdorf AG
BIO VALORE WORLD SPA
BIO-FED Branch of AKRO-PLASTIC GmbH
bioplastics MAGAZINE
BioplasticWise
BIOPOLIMER.PL
Biorepack
Biotec
Bluepha
Borealis
BPC Instruments AB
Braskem BV
BZK i W
C.A.R.M.E.N. e.V.
Carbiolice
Centexbel
Circular Biobased Delta
CJ Europe GmbH
Columbus Instruments
Contexte
DG ENV, European Commission
DIN CERTCO
DTU Environment
Earthfirst Biopolymer films by Sidaplax
Eastman Chemical Company
ECHO d.o.o.
Ecorep Kft.
ENCO Consulting
ERCROS SA
Essity Hygiene and Health AB
European Bioplastics e.V.
EUROPEN
EUWID Europäischer Wirtschaftsdienst GmbH
Evonik Operations
Fibenol
FKuR Kunststoff GmbH
Food Packaging Forum Foundation
forum Nachhaltig Wirtschaften
Fraunhofer Institute UMSICHT
Fruchthandel
Futamura Chemical
Futerro
Gaiker
Green Chemicals Blog
Green Serendipity
Gruppo Fabbri Vignola S.p.A.
Gustav Grolman GmbH & Co.KG
Hamburg University of Applied Siciences
Hanwha Total Petrochemical
Hochschule Albstadt-Sigmaringen
Hochschule Hannover – IfBB
HYDRA Marine Sciences
IBB Netzwerk GmbH
ICIS
IfBB Hannover
IfBB Hannover, NocoCarbo GmbH
IFF
Il Bioeconomsta
Ilim Timber
IndiNature
Institut für Kunststofftechnik (IKT)
Institute for Biopolymers at Hof University
Iowa Economic Development Authority – Europe Office
Irkutsk Oil Company
ITICON GmbH
Japan BioPlastics Association
Japan Society of Biomass Industries
Jiahua Chemicals
JKU – Johannes Kepler Universität
JRC, European Commission
Kaneka
Katarzyna Dabrowska
Kordsa
KRAIBURG TPE GmbH & Co. KG
Kunststoffinformation
Lactips
LG Chem Europe GmbH
Lifocolor Farben GmbH & Co.KG
LIMONTA SPA
Lintec Europe B.V.
Lotte Chemical
Mattel
Mérieux Nutrisciences
Mitsubishi Chemical Corporation
Mitsubishi Chemical Europe GmbH
Mitsubishi UFJ Research and Consulting Co.,Ltd.
Mondelez
Montanuniversitaet Leoben
Müller Service GmbH
NatureWorks
Neste
Netherlands Standardization Institute (NEN)
nord emballage
Nova Institut
Novamont
Novamont France
NTIC GmbH
Oceanium Ltd
Oeko Bioplásticos
Omya International AG
OWS
Pack4Food
Packaging Europe
Packaging Journal
PackagingInsights
PARSA Haar- und Modeartikel GmbH
PLAnt_SPACE LLC
Plastics Europe
Plastics in Packaging
PlasticsEurope
Plastrans Petrochemicals GmbH
Politecnico di Torino
Polymer-Holding GmbH
PolyPea
Posco International Deutschland GmbH
Prime Biopolymers
Profectus Films GmbH
PTT MCC Biochem Company Limited
Puregreen GmbH
Renolit Amsterdam Innovation Center
Rezemo GmbH
Röchling Automotive
Röchling Engineering Plastics SE & Co.KG
RSB
S&P Global Platts
Samyang Corporation Germany
Scarpa
Schaefer Kalk GmbH & Co. KG
Schrödinger GmbH
Senoplast Klepsch & Co GmbH / Senosan GmbH
SIG Combibloc
Sioen Industries
SoBiCo GmbH
Sojitz Pla-Net Corporation
Sphere SA
Südzucker AG
Sukano
Sulapac Ltd
Sulzer Chemtech LTD
Sustainable Plastics
TECHNIP ENERGIES
Technip Zimmer GmbH
Tecnaro GmbH
Tecnon OrbiChem
Teraplast Sa
tesa SE
Thai Wah Public Company Limited
The Italian Composting and Biogas Association (CIC)
TIPA Corp Ltd
Total Corbion PLA
TU Berlin
TUV AUSTRIA Belgium
UNITIKA EUROPE GmbH
Università di Pisa (/INSTM)
Universität Stuttgart IKT – Institut für Kunststofftechnik
Versalis
VP Global Sales and Business Development
VTT
Wacker
Wageningen Food and Biobased Research (WUR)
WELT
Worcester College – University of Oxford
WWF