THE BIOPLASTICS CONFERENCE EXHIBITION
The exhibition is dedicated exclusively to bioplastics. It is the ideal platform for your company to demonstrate your products and services, increase brand awareness, build new business relationships and gain instant market feedback.
Why become an exhibitor?
The product exhibition at the European Bioplastics Conference is an unrivalled opportunity to showcase your products to potential partners: the conference includes visitors from the entire bioplastics value chain covering manufacturers, plastic converters, green chemistry, products, (industrial) end users, brand owners, research & consulting, as well as machinery & engineering.
How we promote you
You will have great visibility throughout the event thanks to your branded exhibition space, embedded in the catering and networking break area accompanying the conference.
With plenty of networking breaks during the two-day event you can expect to have numerous one-on-one conversations.
We will feature your company logo and profile on conference materials handed out to all attendees on site, and in conference-related mailings.
In addition, your company logo and profile will be up on the event website and linked up with your company's online presence
Secure your Exhibition Stand here.
Exhibitors at the 13th European Bioplastics Conference 2018 were: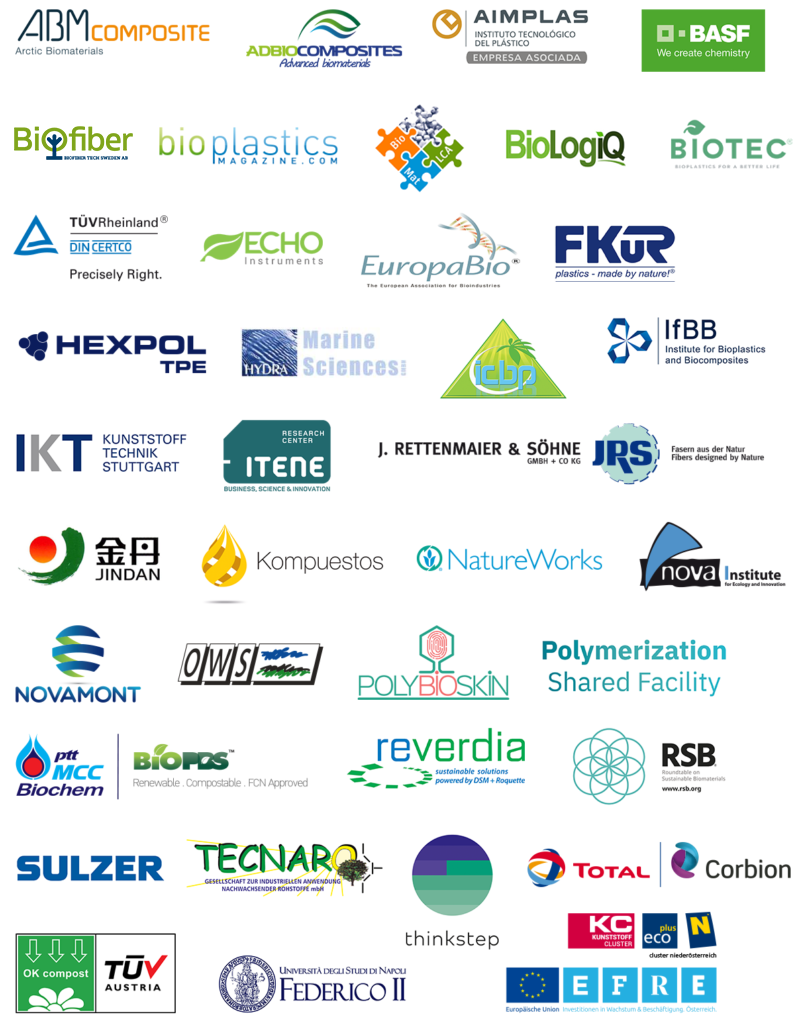 ABM Composite, ADBIOCOMPOSITES, AIMPLAS, BASF, Biofiber Tech Sweden, Biologi Q, Bio- MatLCA project/Technische Universität Berlin, BIOTEC, DIN CERTCO, ECHO, ecoplus. Nieder- österreichs Wirtschaftsagentur, EuropaBio, FKuR Kunststoff, HEXPOL TPE, HYDRA Marine Sci- ences, IfBB, IKT – Institut für Kunststofftechnik (Universität Stuttgart), Indochine Bio Plastiques, Institute of Nuclear Energy Research, Atomic Energy Council, ITENE, JINDAN New Biomaterials, J. Rettenmeier & Söhne (JRS), Kompuestos, NatureWorks, Nova Institute, Novamont, OWS, PLA- net, PolyBioSkin, Polymerization Shared Facility, PTTMCC Biochem Co., Reverdia, Roundtable on Sustainable Biomaterials (RSB), TECNARO, thinkstep, Total Corbion PLA, TÜV AUSTRIA, Univer- sità degli Studi di Napoli "Federico II", Verbund Kompostierbare Produkte.