CONFERENCE SPONSORSHIP
Sponsorship is an integral element of the European Bioplastics Conference. We think of sponsorship as a mutually beneficial partnership, and in return for the commitment we provide our supporters with the opportunity to demonstrate their industry leadership and promote their brand in the best possible environment.
To find out more, simply download the selection of Sponsorship Options. As a general rule: we can customize packages to match your requirements and budgets!
If you would like to become an official sponsor and partner of the 13th European Bioplastics Conference 2018, drop us a line on conference[at]european-bioplastics.org or +49 (0)30 2848 2358 – we look forward to exploring a partnership with you.
Gold sponsors 2018

Total Corbion PLA is a global technology leader in Poly Lactic Acid (PLA) and lactide monomers. PLA is a biobased and biodegradable polymer made from annually renewable resources, offering a reduced carbon footprint versus many traditional plastics. The Luminy® PLA portfolio, which includes both high heat and standard PLA grades, is an innovative material that is used in a wide range of markets from packaging to consumer goods, fibers and automotive. Total Corbion PLA, headquartered in the Netherlands, will start up a new production plant in Thailand in the second half of 2018. The company is a 50/50 joint venture between Total and Corbion. More information at www.total-corbion.com.
Silver sponsors 2018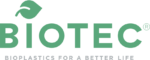 BIOTEC is one of the world-wide leading companies in producing starch based compounds. Established 1992 and located in Emmerich am Rhein (Germany) BIOTEC is developing and producing biodegradable and compostable materials, called BIOPLAST, by using potato starch as the main renewable resource.
BIOTEC's customers, who are making mainly shopper bags, refuse bags or fruit & vegetable bags out of BIOPLAST prefer the excellent extrusion behavior, the high mechanical properties and absence of disturbing smell of the compound. Over the last years the various regulations implemented by the EU and single member states have brought a long list of increasing requirements for bags regarding composting properties and renewable content. BIOTEC has developed a range of products called BIOPLAST 300, BIOPLAST 400 and BIOPLAST 500. These bioplastics are plasticizer-free, thermoplastic materials that contain natural potato starch and other biologically sourced polymers. All products are certified as OK Compost and OK Compost HOME by Vinçotte. The bio-based carbon share is of 30%, 40% and 50% respectively, confirmed by Beta Analytics. All products made from BIOPLAST are 100% biodegradable and compostable according to EN 13432 standard. BIOPLAST 300, BIOPLAST 400 and BIOPLAST 500 are suitable for processing by blown film extrusion to produce items that are completely biodegradable. The absence of plasticizer allows the material to be easily processed to stable products of consistent quality. BIOTEC is providing a wide range of solutions to bags makers to fulfill the highest requirements e.g. the bio-waste directive for refuse bags in Germany or the bag legislation for fruit & vegetable bags in France. More information at www.biotec.de.
European Bioplastics extends a special thank you to the sponsors of the 2017 conference: