Attendees
Each year, over 400 experts from around the globe come together and impressively demonstrate the conference's tremendous effectiveness in information exchange and networking. The conference is the ideal platform to build new business relationship and to reach industry decision makers along the entire value chain of bioplastics.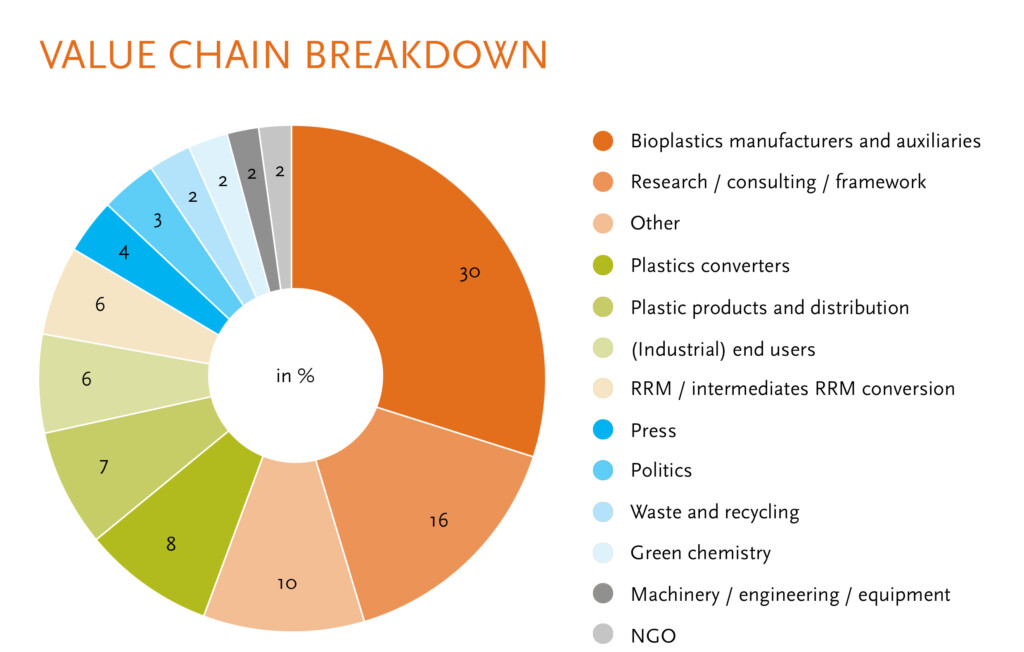 As the major industry association in this field, the hosts at European Bioplastics are committed to representing the interests of stakeholders along the entire value chain. The diversity of the delegation reflects that, and the trend towards a pan-industry gathering is set to continue as the event embraces the inclusion of political and other non-private sector actors. It is also noteworthy that an increasing number of exciting brands are participating.
Register now and be part of the 17th European Bioplastics Conference!
Registered companies and organisations 2022
Acies Bio d.o.o.
ADM
Agrana Staerke GmbH
AIMPLAS
Ajou University
Alchemy Cloud
ALPLA Werke Alwin Lehner
Arctic Biomaterials (ABM)
ARKEMA
Arzeda
Asahi Kasel Corporation
Avantium
B4Plastics
BASF SE
Beiersdorf
BerryAlloc
BGK
Biodegradable Products Institute (BPI)
Biofibre GmbH
bioplastics MAGAZINE
Bioplasticsmagazine Polska
Biorepack
BIOTEC
Biovox
BluCon Biotech
Bluepha
BPC Instruments
Braskem
BVTE e.V.
CARBIOLICE
CARBIOLICE
Carl Zeiss Vision
Celanese Services (UK) Ltd
CETEC
CIC – Consorzio Italiano Compostatori
CINDE
Circularise B.V.
CJ Biomaterials
Columbus Instruments
Consorzio Italiano Compostatori
CONTEXTE
Covation Biomaterials
Częstochowa Universtiy of Technology
DaklaPack Europe
Danimer Scientific Inc.
DG Clima, European Commission
DG ENV, European Commission
DIN CERTCO
Diversey Europe Operations
Dressler Group Customer Service
Earthfirst Biopolymer Films by Sidaplax
Eastman Chemical Intl.
ECHO Instruments
EcoFuture Biomaterials
ECOLASTIC PRODUCTS PRIVATE LIMITED
Economy Ministry of the state of Bavaria, Germany
ENCO srl
Enviro Services Pvt Ltd
Eppendorf SE
Epsan Plastik
epsotech Holding
Essity Hygiene and Health
Eurofins Ecotoxicologie France
EuropaBio
European Commission
European Compost Network
EUWID
FH Salzburg, Smart Building
Fibenol
Fitesa
FKuR Kunststoff
forewood by rezemo GmbH
Fraunhofer UMSICHT
Fromm Plastics GmbH
Fundacion IDONIAL
Futamura Chemical UK Ltd
Futerro
Genomatica
Genpak
Green Chemicals Blog
GRODAN (ROCKWOOL)
HAW Hamburg
HB Consulting Service
Henkel AG & Co. KGaA
Hochschule Albstadt-Sigmaringen, Sustainable Packaging Institute
Hubert De Backer
HYDRA Marine Sciences
IBB
ICL – IP
IFF
IFG Exelto NV
ILAG
ILLIG Maschinenbau GmbH & Co. KG
IMI TAMI Institute for Research and Development Ltd,
INGENIO LA UNIÓN
Ingevity
Innograaf B.V
Institut für Kunststofftechnik der Universität Stuttgart
Institut für Textiltechnik der RWTH Aachen University
Itene
Japan Bioplastis Association (JBPA)
JRC, European Commission
Jungbunzlauer Ladenburg
Kaneka Belgium nv
Kompost und Biogasverbandes Österreich (KBVÖ)
KOMPUESTOS
Kordsa
Kunststoffinformation
LACTIPS
Lawter
Leibniz Institute for Agricultural Engineering and Bioeconomy
LG Chem Europe GmbH
Lotte Chemical
Maan Group
MAM Health & Innovation GmbH
Mérieux Nutrisciences
Metsä Board Corporation
Michigan State University
Microtec
Mikroplastikfrei Bündnis Österreich
Mitsubishi Chemical Corporation
Mitsubishi Chemical Europe GmbH
Mitsubishi Electric Europe
Mitsubishi UFJ Research and Consulting Co.,Ltd.
NatureWorks
Natur-Tec
Neste
New Energy and Industrial Technology Development Organizatio
Nitto Denko Corporation
nord emballage
Nordzucker AG
Normec LSE
nova-Institute
Novamont
Novamont France SAS
Oeko Bioplasticos
Olympus
Omya International AG
OWS
Pack4Food
PepsiCo
PESCOAG DMCC
Plastics Industry Association
Plastrans Petrochemicals
Politico
POLY-IN  CONSULTING
Polymaterials
Potato Bioplastics
Prime Biopolymers
Profectus Films GmbH
PTT MCC Biochem
Reckitt
Rosiro Group
Royal Netherlands Standardization Institute (NEN)
SCG Chemicals Public Company
SCS Global Services
Sekisui Specialty Chemicals
Senbis Polymer Innovations
Shenzhen Esun Industrial Co., Ltd.
Sirmax
SK Chemicals
SK geo centric
SoBiCo
Solugen
SPHERE GROUP
Springer Fachmedien
Stora Enso
Südzucker AG
Sukano
Sukano AG
Sulapac Ltd
Sulzer Chemtech
Sustainable Plastics
Sustainea Bioglycols
SZU KOREA
Tchibo GmbH
TECHNICAPS PACKAGING
Technip Energies
TECHNIP ENERGIES FRANCE
Technip Energies Italy
Tecnaro GmbH
Tecnopackaging
The Clorox Company – Glad
TIPA Compostable Packaging
Torwash
TotalEnergies Corbion
TU Berlin
TÜV Austria Belgium
United Initiators GmbH
UNITIKA EUROPE
Universidade de Aveiro
University Loeben
UPM
VTT Technical Research Centre of Finland
Wacker Chemie AG
WeylChem International GmbH
Xiamen Changsu Industrial Co., Ltd
Zhejiang Hisun Biomaterials Co. Ltd.
Zhejiang Sugar Energy Technology
ZM Makina Tekstil San
Zymvol Biomodeling